What do Sequim appraisers do when their assignment is an unfinished house or an incomplete house?  I recently sold a home that was foreclosed and is new construction.  This is in a subdivision that has been foreclosed.  Unfortunately for the developer, he invested a fortune in subdividing land and building homes just as the market peaked in 2005.  He hung on hoping upon hope that the market would turn around before the ball and chain of debt pulled him under.   For the developer, this became his personal story of tragedy, but for my client, this became an opportunity to purchase a home at an extraordinary price.  But the house was unfinished, so how did the appraiser deduct appropriate values to arrive at a true fair market value (FMV)?  After all, my buyer had to be able to get a loan based on a solid appraisal.
Sequim Appraisers Have Tough Job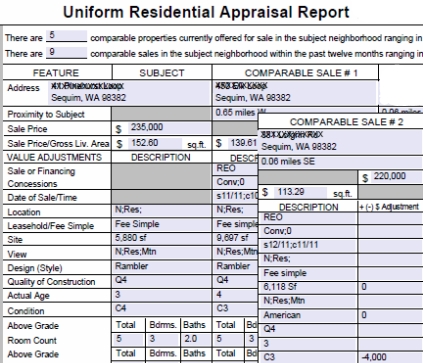 Sequim Appraisers Don't Have Many Comps
Sequim appraisers do not have a huge database of comparable sales to use when they do their appraisals.  There just aren't very many sales that are truly comparable.  Many Sequim homes are unique, and for those homes especially, there will be few and maybe no comparables.  An appraiser will use what he has, including the cost or replacement approach, but the value that an appraiser will give the greatest weight to will be the prices of other recently closed transactions.
Sequim Appraisers & Cost to Cure
When a home is unfinished, an appraiser uses published estimates of the  "cost to cure."  If there is no carpet and no flooring, as in the case of the home my client just purchased, the cost of a carpet and flooring is estimated using less expensive materials, but not necessarily the cheapest.  Since the appraiser works for the bank (not the buyer), the goal is to arrive at a solid value that secures the debt.  Banks don't want inflated estimates, and appraisers' reports are now subject to more scrutiny than ever before.
If a house has some unfinished minor work, such as touch up painting, some missing trim, or other inexpensive repairs, the appraiser may just ignore the "cost to cure."  Sequim appraisers are both experienced and conservative in their appraisals.  This is good.  Almost all banks now use Appraisal Management Companies to select appraisers, so local loan reps or Realtors are prohibited from having any influence with how the appraiser is selected.  The appraisal process is probably more objective for Sequim appraisers now than it ever has been.
Last Updated on February 28, 2012 by Chuck Marunde