Sequim Bed and Breakfasts are a very popular destination for travelers from across the pond (Seattle) and from around the country. The Olympic Peninsula is a beautiful and peaceful getaway for anyone, and of course, many decide to retire after their stay at a B&B.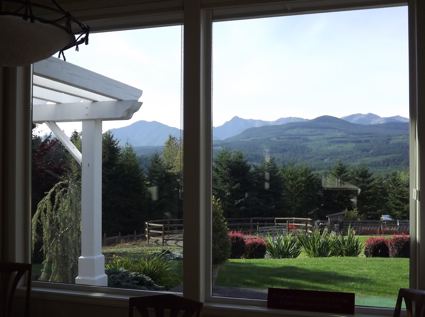 Sequim Bed and Breakfasts Surrounded by Beauty
Sequim has the gorgeous Strait of Juan de Fuca on the north with Victoria and the islands on the horizon and the stunning Olympic Mountains to the south (which you see in this photo). There's something about the beach with waves lapping at the shoreline that is therapeutic, and there's equally something very rewarding about experiencing the trails in the old growth forests of the Olympic National Park. Wildlife is everywhere. The water and the air are fresh. No wonder so many people come to visit Sequim and Port Angeles by staying at one of the Sequim Bed and Breakfasts or one of the Port Angeles B&Bs.
Sequim Bed and Breakfasts
If you want to look up all the local B&Bs, you might have some trouble seeing a complete list all at once. Many of the paid advertising services online for Sequim Bed and Breakfasts only show a few at a time, or you are forced to register to see more. Some are listed on the Sequim Chamber site and some are listed on the P.A. Chamber site. Some are listed on Yelp. Some or most are found on Trip Advisor. But finding a complete list in one place is almost impossible, until now. I created a business directory of local businesses that have websites, and you'll find this page with both Sequim Bed and Breakfasts and Port Angeles B&Bs all in one list with direct links to their websites. Come and visit us, and I hope you enjoy your stay at one of our beautiful Sequim Bed and Breakfasts.
Last Updated on December 3, 2013 by Chuck Marunde