Looking at Sequim custom homes is a lot of fun, and this is such a buyer's market I thought you might enjoy knowing what it was like looking at homes all day in Sequim.  I spent the day with two wonderful clients looking at a filtered selection of Sequim custom homes yesterday.  Looking at homes never gets old for me, and every home is unique.  What I want to share here is my clients' impressions of homes as we looked at them.  If you are retired or nearing retirement, in your 50's or 60's, and you've been a professional for an entire career, and you have been married for a long time, have adult children, a stable retirement income, and good credit, you may find that you think a lot like these clients.  So put yourself in the shoes of these clients as we look at homes.
Sequim Custom Homes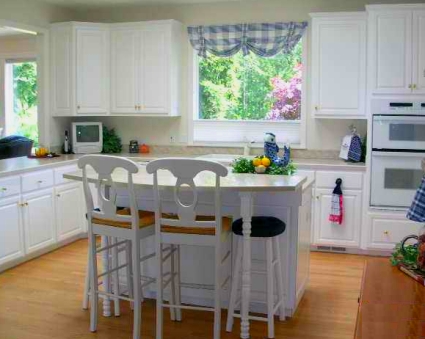 Sequim Custom Homes – Older Architecture
I started the day by picking up my clients at the Sequim Quality Inn at 8:30 in the morning.  Then we drove to Sunland to look at several Sequim custom homes.  The first home was listed at $259,000 and was built in 1982.  It had all the prerequisites, like 3 bedrooms, 2 baths, at least 1,800 sq. ft., but the problem with older homes like this is the architecture.  It was popular in the '70's and early '80's to build dark homes with small windows (and no windows in some rooms), and remember that ever popular dark brown paneling?  Skylights were not in vogue yet.
The next home on the list was sold out from under us.  (Wait, you mean other retirees are buying homes in Sequim like the one we want?  Absolutely!) Continuing with our list of Sequim custom homes, the third home was listed at a little over $260,000, and is 1,700 sq. ft., has a nice practical floor plan, and was well maintained.  The house is a medium level custom home, but the kitchen cabinets were low custom quality.  But at this price, this would be a great buy for someone.
The next home was also an older home, dark in some rooms, but it had a weird floor plan, and we couldn't figure out what the original thinking was.  You'll see a lot of variety among Sequim custom homes.  The next home had a small galley style kitchen with an odd little breakfast nook.  At $297,000, it was significantly overpriced when compared with these other homes.  The next home had great curb appeal, and the first floor had a pretty good layout, but the second floor had tiny bedrooms and a narrow hallway.  This home is listed at about $650,000, but my clients and I felt it was overpriced by about $300,000.  (I'm not exaggerating either.) 
The next two homes were nothing special.  Boring floor plans, and unimpressive kitchens, yet they were priced like some of the newer and better homes.  The next home was stunning in every way.  It was the kind of home you walk into and just sigh.  It is priced about $200,000 below the seller's cost, literally.  This is why builders are having such a hard time.  We spent a lot of time at this home.  But we weren't done.  We had one more to look at for the day.
The last home was the frosting on the cake.  In a country setting with over an acre and a gorgeous valley view, it is a beautiful high quality custom home with a propane stove, hardwood floors, custom all-wood kitchen cabinets, Internet and speaker wires in every room, an attached garage but also a separate garage with a little apartment above, and a work out room (or office) with carpet and a sound system and a complete bathroom and shower.  But the feature that was the bonus of bonuses is the solar system that provides 70% of the home's electricity needs.  This home is listed at about $150,000 less than the owner's cost.  I think my clients found their retirement dream home.  If they don't buy it, I will.  We really have some great Sequim custom homes at some incredible prices right now.
Sequim Custom Homes – More Shopping
We will spend another day looking at some more homes, but I think my clients are convinced they found "the one."  We will look at a few more because it is important to know for sure that you have found the right one, and unless you are convinced you have found the right one and that it is a great price, you won't have the confidence to draft an offer and negotiate your best deal.  Now you know what it is like looking at Sequim custom homes.
Last Updated on September 19, 2011 by Chuck Marunde