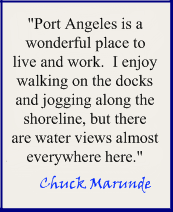 Port Angeles, Washington is 15 miles from Sequim, a popular retirement community.   Port Angeles is surrounded by the incredible beauty of the Northern Olympic Peninsula, the Olympic National Park, and the Strait of Juan de Fuca.
We're away from the nightmare traffic of the I-5 and I-405 corridors of the Seattle and Tacoma metropolitan areas.   Since Port Angeles is on the northern Olympic Peninsula about a two and a half hour drive from Sea-Tac International Airport, it is a peaceful country setting.   Being on the Peninsula, we get less traffic, because we don't get people passing through on their way from one place to another.
We have the beautiful Olympic Mountains and the Olympic National Park with old growth trees in a natural and protected environment.   We have the Strait of Juan de Fuca, the Port of Port Angeles, the Port Angeles Boat Marine, and water views galore.
We have more recreational activities than almost anywhere in the country, biking, jogging, hiking, surfing, boating, sky diving, mountain climbing, fishing, golfing, incredible motorcycle roads around the Peninsula, restaurants you won't forget, and the list goes on.
We have more volunteers in various community activities than I've ever seen anywhere I've lived.   I was invited as an attorney to talk to a group a while back, and I was introduced to a few people, including a retired rocket scientist (yes, they really exist), a retired CEO of a large California company, a retired Army General, and a wealthy inventor, all of whom were great conversationalist.   That was just one little luncheon.
There are so many activities, groups, and associations for retired people, I won't take the space here to write about them, but you'll find everything from gardening to building experimental planes.
Retirees are happy to find land here where they can build their dream homes.   Right now Port Angeles has a large inventory of lots for sale.   Of course, the market has slowed down everywhere, and because a number of developers started their projects here several years ago, buyers now have a great selection of lots available, and at reasonable prices.   There are water view lots, mountain view lots, high bluff water frontage, gated communities, private acreage surrounded by trees, open farmland for sale, ranch property for sale, and let's face it–this is a buyer's market.
I am seeing a very significant percentage of our buyers coming from California and Arizona, and all the way from New Jersey and Florida.   Many are professionals who know exactly what they want.   As between Sequim and Port Angeles, the better value for buyers is undoubtedly in Port Angeles.
Port Angeles is a great place to retire.   No doubt about it.   Use my websites and blogs to read more about Sequim and Port Angeles.     See SequimPortAngeles.com.
Last Updated on August 3, 2008 by Chuck Marunde