This Sequim home with a shop (the owners call it a barn) is on almost five acres (4.77 acres), and is what so many buyers are looking for: 3 bedrooms, 2.5 baths, 2200+ square feet, built in 2005 with a gorgeous modern kitchen, a 2 car garage, a huge three door shop building with a high ceiling for RVs, a steel greenhouse, a chicken coop, and a Sequim mountain view.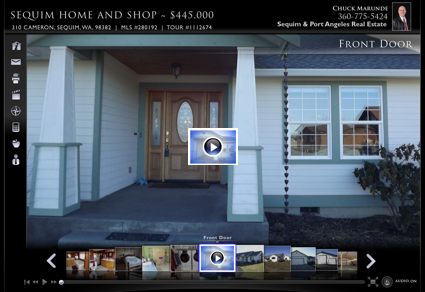 Sequim Home with a Shop
Who doesn't want a Sequim home with a shop or a barn? Most men do. You can watch this virtual tour and see the inside of this home and the inside of the shop, too. You can also see all the MLS data on this home at this Sequim MLS site: Sequim Home with a Shop. This home is in one of the best areas around Sequim. It is in farm country where the lots around this house are mostly 5 acres or more, and yet it's only about 5 miles from downtown Sequim. The mountain view is great, but I can't capture it and do it justice on a camera. But you'll love the unhindered mountain view. 
Sequim Home with a Shop Plus Irrigation
If you've ever dreamed about having your own little mini farm in a gorgeous modern home, this may be your home. On 4.77 acres in an area of rich soils, this is a rare property, even in the Sequim area. If you've been reading this real estate blog, you may have read some of the articles about how the State of Washington is starting to regulate private water use and tax people for using their own water and limit outdoor water useage. This property has an irrigation ditch alongside the eastern boundary, and for only $60 a year (per the owner), you will have irrigation water from May to September. Water rights are getting more valuable, especially with the serious drought in California. 
If you would like to see this Sequim home with a shop, email or call Chuck Marunde.
Last Updated on September 21, 2019 by Chuck Marunde