Looking at Sequim homes is a lot of fun, and that's what I did today with clients.  We also looked at some homes in Port Angeles and Port Townsend recently to compare floor plans and prices.  We do have some wonderful homes for sale here, and we have an amazing variety of architectural styles.  Sequim homes also have quite a variety of water views and mountain views and valley views.
Looking at Sequim Homes for Fun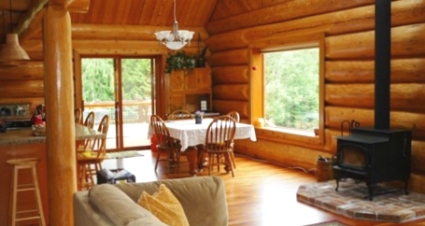 Sequim Homes – Variety is Good
It is rare that buyers will find the perfect home.  There probably is no such thing as the "perfect home."  Rarely will you find a home that includes every item on your checklist, but you will find homes that have perhaps 9 out of 10 of your most important features.  That is why I often refer to the "ideal home."  Recently my clients and I have viewed some incredible homes.  One was incredible in terms of quality and a wonderful floor plan.  It was obviously a bachelor pad, but what a beautiful home it is.  On the downside, it was not the ideal lot and location, and it was priced very high.  Another home was nearly perfect, but the master bedroom was on the second floor.  The vast majority of retirees prefer the master bedroom on the main floor.  Another home has a stunning water view, but the driveway was very narrow and steep.  And then there was this gorgeous log home in the photo above.  Very beautiful, but there was highway noise and the lot was not as good as some other properties.
Sequim Homes and Sequim Prices
Of course, you can't talk about Sequim homes if your shopping without comparing prices.  If you look at a lot of homes online and then in person, you will get very good at recognizing when a home is overpriced or reasonably priced.  My clients have gotten very good at recognizing value, and in some cases, I think they understand the fair market value even better than the owners or the listing agents.  Today was another great day in Paradise.  I enjoy looking at Sequim homes with clients. 
Last Updated on March 22, 2012 by Chuck Marunde