As I've been showing Sequim homes recently, especially these past two weeks, the great variety of architectural plans and designs is very apparent.  My clients from California and elsewhere consistently tell me that the design of their retirement home in Sequim must have a design that makes them feel comfortable.  One client told me, "This home doesn't speak to me."  However you might describe a home, there is much more than a checklist of 3 bedrooms and 2 baths and 1,800 to 2,400 square feet.  I thought you might find it valuable to hear what other retirees are saying as we walk through Sequim homes.
Sequim Homes and Architectural Design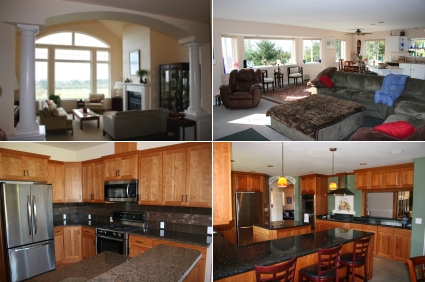 Sequim Homes – Variety
Sequim homes have such an amazing variety of design and architectural styles.  This is probably because we have retirees who move to Sequim from around the world, and that means quite a variety of cultural and lifestyle preferences.  Here are some of the phrases that my buyer clients have used recently as we walked through some Sequim homes for sale.
"I can see there was a great deal of thought that went into this kitchen design, but I like to cook on a flame rather than electric."
"I love the floor plan, but I really want more natural light in my home.  Tube lighting and skylights are wonderful."
"I love the house, but we don't need or use a formal dining room."
"This is a beautiful home and it has all the rooms we would want, but there's a feeling of chaos.  The design just doesn't feel right."
"Way too much landscaping.  That's not where I want to spend all my time."
"For the price I imagined that the kitchen would knock my socks off, but it's pretty plain."
"The house is almost perfect, but they didn't put much into the master bedroom and master bath."
"There's a lot of dead space in the house.  Wasted space.  That's not good."
"This home is very comfortable and clearly a lot of time and thought went into the design.  Everything has its place."
"Beautiful home.  Stunning water view.  But the driveway is so steep, that scares me."
"The floor plan just doesn't flow.  I'm not sure what they were thinking."
"4,000 square feet is more than we need.  2,400 would be plenty of space for the four of us." [That included two dogs.]
"We like four bedrooms because he needs his office and computer desk, and I need my own room for my painting."
"This is too big only because we're energy conscious."
"We love the radiant heat in the floor.  We like to walk around in our stockings."
"The double shower is quite impressive.  The tile, the tube lighting.  But there's no bathtub in the house."
"We prefer hardwood floors everywhere."
"They did a great job with all the windows facing the water view and there's lots of natural light.  The floor plan is great.  I could live here."
Sequim Homes for Sale
I love showing my buyers homes.  It really is an adventure, and it never gets boring.  Sequim homes have a tremendous variety of architectural designs.
Last Updated on September 4, 2011 by Chuck Marunde