What about Sequim homes for sale?  Are they selling?  The answer is yes, and this chart is revealing.  I've tracked Sequim homes for sale from 2003 through calendar year 2010, and I've also included a comparison of Sequim and Port Angeles homes sold.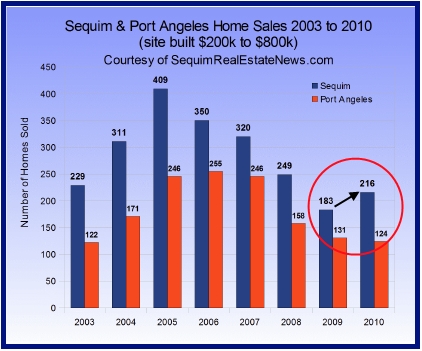 People asked me all the time, "Is the market picking up?"  Well, it's been pretty flat for a while now, and there really isn't evidence beyond a reasonable doubt that the market is picking up, but we do see more sales in Sequim in 2010 than in 2009, and a slightly small number of sales in Port Angeles.
In 2009 we had 183 Sequim homes sold, and in 2010 we had 216 Sequim homes sold.  That's an 18% increase in home sales, but I need to add that this may not be as significant as it sounds.  The numbers are small, which is to say that while 33 more homes sold in Sequim does represent an 18% increase, it only represents 33 homes.  That does not necessarily identify a long term trend.
I will say this.  I'm very busy communicating with buyers and showing homes as a Sequim Buyer's Agent, and we are entering the the best time of year for home sales, the spring and summer months.
Last Updated on September 5, 2011 by Chuck Marunde