Are home values tumbling?  Fox news reported today that Zillow's first quarter data suggested that home prices have dropped in the U.S. by 3% in the first three months of 2011.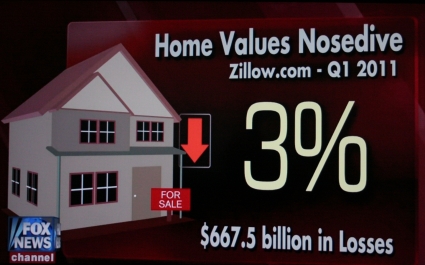 As they say, "Statistics don't like–statisticians do."  In this case, there are many possible interpretations of this data.  But there are a few simple rules to consider when drawing ultimate conclusions from this scant information.
First, this is data collected by one private company, Zillow.  Does it include 100% of all sales across the entire U.S.?  I can guarantee that it does not.  But it may include sufficient data to validate the reduced values.  We don't really know.
Second, a statistical study must be properly weighted to exclude or adjust data that would or can scew the data.  In this case, the U.S. real estate market is so dramatically different in various regions and states that it is a very general statement to apply one statistical template to all areas.  Perhaps home prices only declined by 1% in your area and 5% in Phoenix.  It's also very possible that prices stayed the same in your area and dropped by 6% in the foreclosure disaster areas, like Vegas and Phoenix.  Averages on a national level are not very helpful, except to remind us that nationally the real estate market is not sending any signals of recovery yet.
Have home values in Sequim declined by 3% just in the first quarter of 2011?  Not likely.  That would mean that a home at $300,000 has declined by $9,000.  There's literally  no way to measure that.  I haven't seen it, and prices just don't drop automatically here.  There's also no way to know whether a price decline is the result of a falling market in the first quarter.  A listing price may have dropped by 3%, more or less, but that may be a response to declining prices over the past 24 months.
Statistics like this one published by Zillow can be very misleading.  What does this statistic mean for a buyer or seller in Sequim?  Nothing.  Absolutely nothing.
Every transaction I negotiate for my buyer clients as a buyer's agent are individually negotiated–one buyer and one seller, each represented by an agent.  Each transaction stands on its own.  Each seller and each buyer have their own motivations and financial considerations.  Each transaction is negotiated on its own merits.  What is happening statistically as an average number around the country in all local markets is interesting but of little negotiating value.
Last Updated on September 4, 2011 by Chuck Marunde