Looking at Sequim homes online is fun, but it is also hard work when you are on the hunt for your ideal retirement home. But what happens when you find the ideal home and want to make an offer? How much should you offer? How can you know what true fair market value really is for the home you like?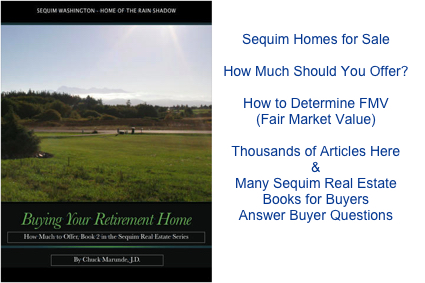 Sequim Homes for Sale
I've written extensively on this blog as well as in my paperback and Kindle books (and iTunes books, including the one above in the iBookstore, "Buying Your Retirement Home") about Sequim homes and how to determine fair market value and how to decide how much to offer. Figuring out how much Sequim homes are worth is much more challenging than you might think. Why?
In a metropolitan market or any urban area with a large population, finding comparable sales for a home is easy. Where you have 10 or 20 homes just like yours that all sold within the past six months, the true fair market value of your home can be calculated within a few hundred dollars. But now look at Sequim homes in a market with a small inventory, a limited number of buyers, and where most homes built here by retirees from around the country are unique and sometimes one-of-a-kind. It is almost impossible to find any mathematical approach that will accurately show you the true fair market value of Sequim homes for sale. There may be zero comparable sales to use in a CMA (comparative market analysis).
Sequim Homes and True Fair Market Value
As I explain in Buying Your Retirement Home (and in many articles on this blog), there are several approaches to arrive at true FMV (fair market value). I use all of these methods for my buyers before I draft an offer:
A CMA using comparables, but since there often are not very similar comps, I use a mathematical approach to differentiate homes for my CMA;

Cost of replacement, which is calculated by adding the value of the land today, the cost of excavation and site preparation, installation of utilities, construction of a home, and minimal landscaping;

The tax assessed value, which is rarely correct and needs to be adjusted for FMV; and

An intimate familiarity with local real estate sales and values, which sounds subjective, but with experience can be very accurate.
Each of these approaches has taken me years to develop and do well, and because I have been here in Sequim for 22 years and have viewed hundreds and hundreds of homes, I can connect the dots with each of the approaches and with my experience to recognize when Sequim homes may be overpriced or reasonably priced or underpriced. 
Yesterday I worked through this process on a home with a value in the six hundred thousand plus range. As I reviewed comparable sales, I found several homes that sold for $20,000 to $75,000 more and less than their true fair market value. How does that happen? Buyers and sellers, and frankly some real estate agents, don't know how to figure out the true FMV, and some buyers are paying too much, while some sellers are not getting as much as they should. By the way, prices have appreciated in the Sequim area from 15% to 30% since 2013, and some homes are back to their pre-2007 values.
This proves that the Sequim real estate market is an inefficient market, meaning that the market is not efficiently determining the true FMV of Sequim homes by virtue of supply and demand and buyers and sellers who negotiate intelligently. Buyers have to rely on a local real estate agent when they draft offers, and sellers really don't know what their homes are worth. They only know how much they have in their homes and how much they need to buy their next home. If all Realtors knew exactly how to determine value, that could improve the efficiency of pricing, but let's face it, all Realtors do not know how to do this. And to make matters more challenging, we don't have a large database of sales of similar Sequim homes, so we don't have reliable pricing models.
This makes it difficult for buyers from all over the U.S. who are not familiar with our local real estate market. Fortunately, I do all of this research for clients who hire me. Sellers are entitled to the true FMV of their homes in this market, and my experience saves my buyers from paying too much for their Sequim homes.
Last Updated on September 6, 2019 by Chuck Marunde