I examined Sequim homes for sale in the MLS and made a shocking discovery, something that has huge implications for buyers, and especially for retirees who are planning to buy a home in Sequim.  Take a look at this graphic, which depicts the Sequim homes for sale in the MLS in both the Northwest Multiple Listing Service (NWMLS) and the Olympic Listing Service (OLS).  You can use your mouse to click on this image to enlarge it on your computer monitor for easier viewing and more details.  I'll explain what this information means.
Sequim Homes for Sale in the MLS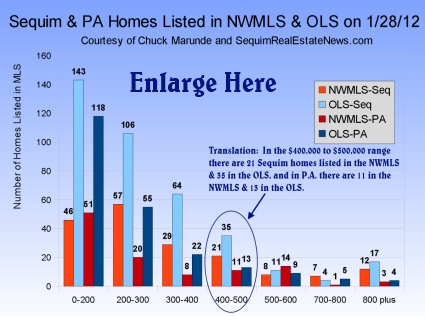 Sequim Homes for Sale in the MLS – 2 MLSs
We have two multiple listing services in the Sequim area.  One is complete, meaning that it has all of the local listings (or 99%), and the other MLS does not have all the local listings.  The OLS has all of our local listings, and the NWMLS as you can see in this graph only has a small percentage of the listings.  Obviously, the MLS to use if you are a buyer is the OLS, otherwise you will not see all the homes listed for sale.  Most template broker MLS sites do not give you the option or they do not make it clear which MLS you are searching.  My Sequim MLS site does.  If you want to learn more about why we have two MLSs or how they work, you can read more at Sequim Homes for Sale in the MLS and Sequim OLS and Sequim NWMLS. 
Sequim Homes for Sale in the MLS
Here is the shocking discovery.  The number of Sequim homes for sale in the MLS is surprisingly small.  A dramatic number of homeowners have not re-listed their homes for sale after their listings expired on December 31st.  You can see on this image above that there are only 106 homes listed in the OLS in the price range of $200,000 to $300,000.  The NWMLS only shows 57 homes listed for sale.  That would be because many listing agents are not members of the NWMLS.  I am a member of both listing services, and I was the first broker in Sequim to give buyers the ability to search both the NWMLS and the OLS in Sequim on a website.  You can see the drop down search option on my Sequim MLS site.  I have not seen this option on any other broker's site.  I really do have a lot of special tools just for buyers that no one else has, but that's beside the point right now.
In the price range of $300,000 to $400,000 there are only 64 homes listed for sale in the Sequim OLS.  Isn't that amazing?  This has major implications for you as a buyer if you are trying to find your perfect retirement home in Sequim.  You can imagine that of 64 homes in this price range, probably only a half a dozen fit your preferences.  Of those, you would undoubtedly filter down the number to one or two that you could call home.
Most people understand that this is a buyer's market, and it certainly is, but that doesn't mean you have plenty of homes to chose from.  Read more about the selection of homes and how the market is bifurcated by reading more articles on this blog on that subject.   The interesting discovery for me as I looked in our MLS to examine what is listed for sale for my buyer clients is that the number of  Sequim homes for sale in the MLS has shrunk dramatically.
Last Updated on January 28, 2012 by Chuck Marunde