Our Sequim Homes for Sale Showcase is a new feature to help buyers get the most from their Sequim MLS home search.  Anyone who reads this blog knows that we are constantly working to give our clients more, more search capabilities, more online tools so they can do their due diligence, more valuable information to make wise decisions to get the best home at the best price on the best terms.  As a buyer you will love this feature, which we call our Sequim Homes for Sale Showcase.  We have programmed these links to search for homes with very specific parameters to make your home search easier.
Sequim Homes for Sale Showcase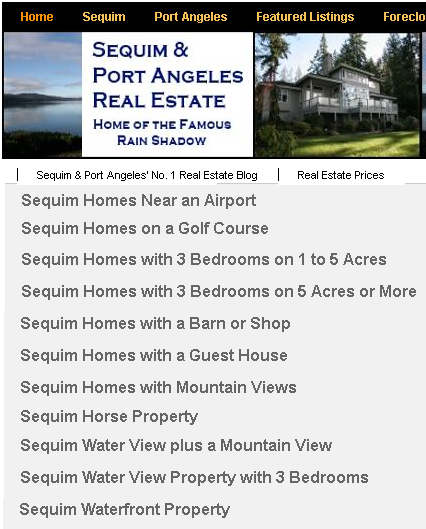 Sequim Homes for Sale Search in the MLS
You will see that if you click on this image or on Sequim Homes for Sale Showcase, you will get a special online page with a number of popular searches.  Of course, even within the search results page, you'll need to filter through the results to narrow down your personal preferences even further.
Sequim Homes for Sale Parameters
One note I'll share on Sequim Homes for Sale and our Showcase is that the information you get is only as good as the data that the listing real estate agents have put into the Sequim MLS.  That means if they made any mistakes or if they input data with different interpretations, the results you get will not be perfect.   Any meaningful search in the MLS starts with parameters that suit you, and then you narrow down the homes in the resulting list to further define your ideal retirement home.  As always, if you need more photos or any more information on any of the homes in your Sequim Homes for Sale search results, you can email or call us anytime.

Last Updated on June 16, 2012 by Chuck Marunde