Sequim homes listed and sold can be seen in a special free online Sequim Real Estate Market Report, which will show you active listings, homes sold (with a map showing the precise location with a link to the full data sheet), and you can also look at great charts and key Sequim real estate market information.
Sequim Homes Listed and Sold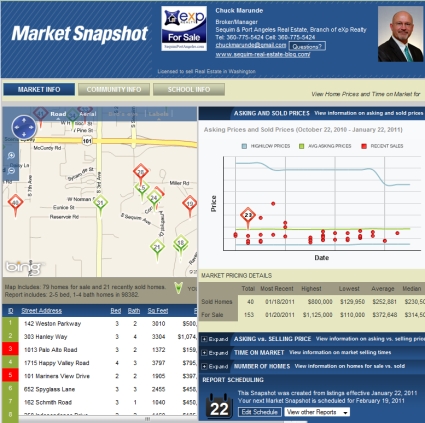 Sequim Homes Maps

You can view the full Sequim homes listed and sold by simply clicking on the above image. You will find active Sequim listings, sold Sequim homes, and a map showing the home locations. When you click on a home on the map, the full property detail sheet will open with the details on the home as well as more photos. I believe this is the only online Sequim homes market report where you can get this kind of information. You can find other sites where you can look at the Sequim MLS listings, but those sites don't show the sold properties or their location, nor how much they sold for.  This is another way I serve my clients–by giving them the best possible information that is available using technology.
Sequim Homes – Compare Listing Price & Sold Price

There's no doubt you'll enjoy looking at this Sequim Homes (Sold and Listed) market report. Besides the information already mentioned, you'll see the asking v. the selling price, the number of days on market, high and low prices, and average prices. This is information that is normally only available to Realtors on their back office subscription sites, and even then it is not compiled and charted like this.
You can receive a regular Sequim Homes market report (and Port Angeles too), by completing the little MLS Market Snapshot form in the right column of either this site. You can select precisely what parameters and price range you want a report on, and you can receive a weekly or monthly email with a link to the updated report.
Now available online and free – Sequim homes recently sold and Sequim homes still listed for sale.
Last Updated on September 2, 2019 by Chuck Marunde