How are Sequim homes selling as winter sets in?  Here we are going into the winter holidays starting with Thanksgiving tomorrow and then Christmas.  This is typically a slower selling season for Sequim homes and everywhere around the country as people spend time with family and settle in for the winter where they currently live.  I've put together some data and charted it here for your information and amusement.
Sequim Homes Sold Each Month in 2011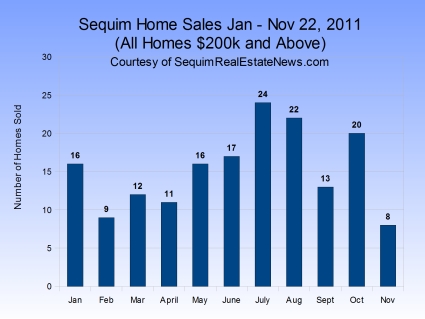 It's no surprise that the total Sequim homes sold in November are only 8 (with 3 business days left in the month).  As I wrote earlier in the year, we did see a spike in sales activity in May, June, July, August, September, and October, and this is shown in the chart on the blue bars.  November drops dramatically, but this is to be expected.  While November sales drop compared to earlier months in this year, that raises the question, "How do Sequim homes sold this November compare with prior years' sales in November?"
Sequim Homes Sold Each November Since 2004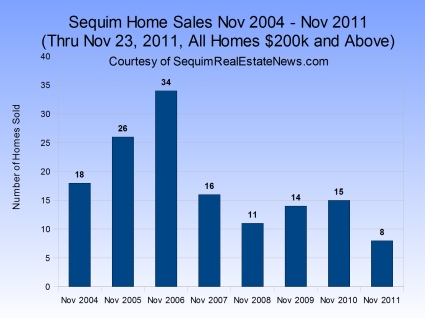 Our peak year in homes sold in November was 2006 when 34 homes closed.  Of course, the offers were actually made in the prior month(s) as it typically takes 30 to 45 days to close.  This year's November sales of 8 homes is the smallest number of homes sold in many years.  Part of the reason may be that buyers pulled the trigger in the summer and fall months, and the next round of buyers will be coming in the spring months. 
Sequim Homes Sold
Examining the market and Sequim homes sold is helpful in understanding the bigger market picture, but we should not conclude that there are no buyers for sellers.  There will be buyers closing on houses during December, January, and February.  Although the numbers are smaller, no seller wants to miss that one buyer that might come along during the winter months.  Sequim homes are selling even if in smaller numbers this winter.
Last Updated on November 23, 2011 by Chuck Marunde