If a beautiful Sequim horse property is in your future, this one is definitely worth seeing. First, it's hard to find almost 10 acres of useable property like this in and around Sequim or Port Angeles. Second, most developed properties have zoning or covenant restrictions which prohibit horses, donkeys, Llamas, sheep, or cows. And while this property may be a little far out of town for most retirees, for the right buyer, 15 minutes from town probably sounds great.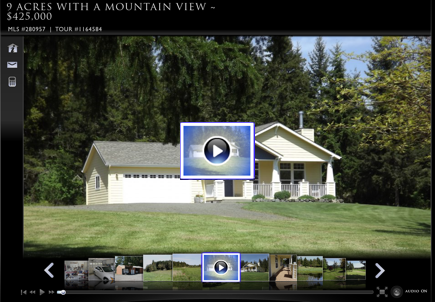 Sequim Horse Property
A good Sequim horse property would have five to ten acres, and it would have a large area for animals to graze with a natural water source. There would be a barn or room for a barn. And the house would be situated in a place with a view of the property, and ultimately wouldn't a mountain view be great? This property has it all. It doesn't have a barn, but there's plenty of property to build one.
Sequim Horse Property with Well Built Home
This Sequim horse property comes with a custom home, shop, boat parking, and RV parking. The home is built better than most homes today. 2×12 floor joists, 2×4 wall studs, site built roof pitch, hardiplank siding, full concrete foundation, high quality materials throughout, and this is a manufactured home. A site built home is subject to variations from home to home depending on how the laborers and carpenters are feeling on any particular day. Project managers and the general contractors are not always good at quality control. This high quality manufactured home was built with precise quality control. In other words, this home used the same materials of a site built home, but it was built inside a manufacturing facility consistent with their quality control and precise measurements. You've got to see this home. There are two bedrooms plus a den, which could become a 3rd bedroom. And unlike most manufactured homes that have a low pitch roof, this roof is the same as any site built home. Many manufactured homes use cinder block for their foundation. Not this home. This home has a continuous concrete foundation, just like any site built home. The two car attached garage is site-built with the same high quality.
Watch the virtual tour above, and you can learn more about this Sequim horse property at Sequim Horse Property.
Last Updated on September 21, 2019 by Chuck Marunde