If you search Sequim MLS listings, you will be pleased to know we just made your search easier.  It's important to be able to save your favorite listings while you filter through over 800 Sequim MLS listings.  One of my clients told me he needed an easy way to get back to his saved Sequim MLS listings, so we immediately responded.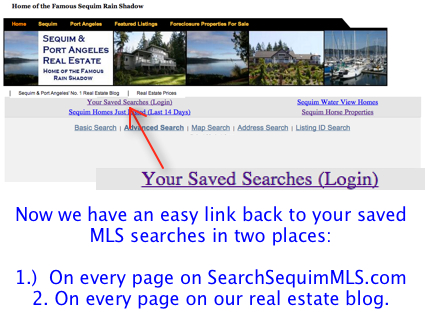 Sequim MLS Listings with Your Saved Searches
Now every main page on our Sequim MLS listings site has a link marked, "Your Saved Searches (Login)."  You'll see that link just above the search parameters in the same section as the Predefined Searches.  [See what it looks like at SearchSequimMLS.com.]
Sequim MLS Listings – Saving is Optional
Real estate brokers are told by the marketing gurus that they should force everyone to register to use their online MLS site.  I don't like being forced to register, and I do not force my clients (and prospective clients) to register to use this Sequim MLS listings site.  You can use this absolutely free without registering.  The only reason you might want to register is so the program will allow you to save your favorite listings.  If you save your favorite listings over a period of months, now you can always get back to your saved short list of Sequim MLS listings.
Last Updated on September 19, 2019 by Chuck Marunde