You can do a Sequim map search for your retirement home with this interactive map.  This map will show all listings from $225,000 and up in the Sequim area starting north of Sequim in one of our most beautiful areas near the center of the actual Sequim Blue Hole.  [You can adjust your own price range on a Sequim map search at Real Estate on Maps.]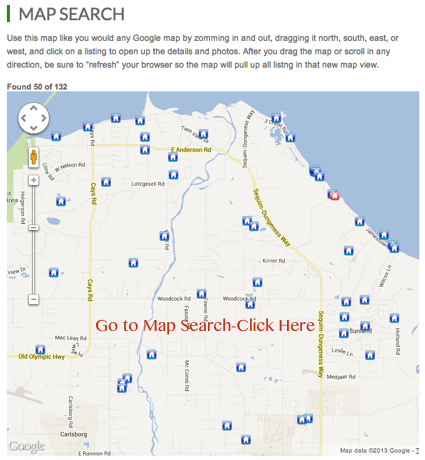 Sequim Map Search a Sweet Visual Aide
If you want your home in the Sequim Rain Shadow (aka the Sequim Blue Hole), this map is the perfect MLS search tool.  It's so convenient to be able simply scroll the map north or south or east or west, and the map will automatically refresh so you can see all the listings in that area.  You can click on the little blue listing markers on the map to get a little popup window showing a thumbnail view of the house and the price, and then you can open that up and see a full page of photos and more information.
Sequim Map Search on Listings
There are several ways to search for your retirement home in Sequim, and whether your personal preference is a map search, a basic search, or an advanced search with a detailed list of parameters, this Sequim MLS site is programmed and designed by me to make it easy and fun to search for your next home.  You'll find more search tools in the right margin of the Sequim Real Estate Blog.  And I'm here to serve you, so email or call with any questions you have about how to use this program efficiently.  Obviously, I love the Sequim map search.
Last Updated on September 20, 2019 by Chuck Marunde