This home has a Sequim Mountain View or what you could also call a Port Angeles Mountain view, because it is halfway between Sequim and Port Angeles.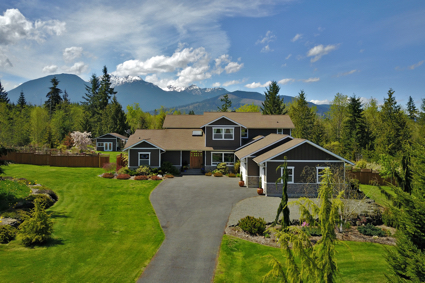 Sequim Mountain View
I suspect this home will not be on the market very long with this Sequim mountain view. This gorgeous custom built home is a brand new listing, and there's nothing like this in the entire inventory. The main floor has everything you need to live in comfort, including the master bedroom, the laundry room, the kitchen, a second bedroom, and a den. The upstairs has two more guest bedrooms and a family room and the third bathroom. The garage is huge with room for 3 vehicles and storage. This Sequim mountain view is visible from many of the windows downstairs and upstairs.
One of the extraordinary features of this home is the architecture. This design is clearly the work of a master architect, because it flows the moment you walk in the front door. I sometimes talk about floor plans as being chaotic or just neutral, but this floor plan connects with the soul. It may be difficult to articulate, but there's no doubt there's a big positive emotional feeling in this home. If you have the chance to view this home with me, you'll know exactly what I'm talking about.
The property is located in a very peaceful location–far from the cacophony of the freeway, Highway 101. The yard is beautiful, but it's not high maintenance, which is important for most retirees.
Sequim Mountain View of Klahanne Ridge
But there's no doubt that one of the most appealing features of this property is the massive view of the Olympic Mountains, including Hurricane Ridge, which rises up in the back yard of this property revealing the majesty of creation. The photos cannot possibly do justice to what you see and feel in person.
Privacy is also precious, especially if you're coming from the hustle and bustle of the Bay area or 16 lane freeways in the L.A. area. There's nothing behind this home except trees, so you'll never have neighbors looking at you over the fence.
You can learn more about this home, see more photos, and you can watch a three dimensional interactive virtual tour of the inside of the home at Sequim Mountain View Home. Be sure to watch the "Virtual Tour". And you can also watch this short aerial video.
You can pay a fortune for a water view, but a great Sequim Mountain View is very pleasing to the eye, too. If you want to view this home, I highly recommend you contact me post haste, because this is precisely the kind of home and property that will likely get sold to the first who makes a full price offer.
Last Updated on September 6, 2019 by Chuck Marunde