iRealty in Sequim (short for iRealty Virtual Brokers) offers more than any other brokerage, not just by a little bit, but by an order of magnitude. If you were a nationwide franchise in Chuck's market, you might say to your colleagues, "We need to recognize the elephant in the room–iRealty Virtual Brokers and that guy named Chuck Marunde. He's dominating the Internet with real estate resources. How do we compete with him?"
This short article is the tip of the iceberg. The whole emphasis here is not on boasting about ourselves, but sharing how much we do for you. I honestly feel that if people actually knew how much iRealty does, they would not even consider hiring another broker. But you can be the judge of that.
iRealty in Sequim Internet Resources
iRealty has the largest volume of content-rich resources for buyers on the Internet of any brokerage in this market . . . by an order of magnitude. Our main Sequim real estate blog has over 2,000 articles written specifically for buyers. These articles have taken over a decade to write and four decades just to acquire the knowledge and experience to create them. The articles answer nearly every Sequim real estate question buyers have been asking for the last two decades in this market. Who does this? No one except iRealty. And all this is free. No registration is required.
iRealty has two public MLS sites (multiple listing sites), each with a specific purpose for buyers, which you'll find at:
iRealty has many paperback and Kindle books written for buyers and sellers specifically about the Sequim real estate market. Again, we're the only brokerage that has written entire books about the local real estate market. You'll find links to our books on the real estate blog, or you can find them on Amazon.
iRealty has produced professional quality videos for buyers, including our popular 6-part buyer series. We're the only local brokerage with a video studio with these kind of educational videos for buyers and sellers. See Sequim Real Estate Videos for Buyers.
We are the only local brokerage to have a professional photographer on staff with the best cameras, lenses and lighting equipment. We are the only local brokerage to have a 3-dimensional virtual tour camera with 9 lenses that gives buyers an interactive online tour of homes. And finally, we are the only local brokerage with an FAA registered drone pilot on staff to produce professional aerial videos. Perhaps you can begin to understand why we feel that if people only knew what we do and how we do it, they wouldn't hire anyone else. 
iRealty Experience Unparalleled 
What is the experience that backs up these resources? Chuck Marunde is the founder and Designated Broker of iRealty Virtual Brokers. He was first licensed 40 years ago as a Realtor, practiced real estate law for 20 years, and opened iRealty over a decade ago. Chuck has lived and breathed real estate, and he enjoys giving all this experience and knowledge to his clients. This business model has proven so successful that Chuck became the number 1 selling real estate broker for 7 years. [Read Who is The Number 1 Buyer's Agent in Sequim?]
The foundation of iRealty is built on values that are never compromised. Those values are truth, honesty, integrity, professionalism, and putting our clients' best interests at the center of everything we do. These are not just cliches–these are values we live by 24/7.
By the way, just because our name is iRealty Virtual Brokers, do not assume that we are not physical beings. In fact, we designed what I think is the best real estate office in Sequim. It is my idea of a private Starbucks without the noise and people, and it is more comfortable. We have all the media and wireless connections we need for great flat screen presentations.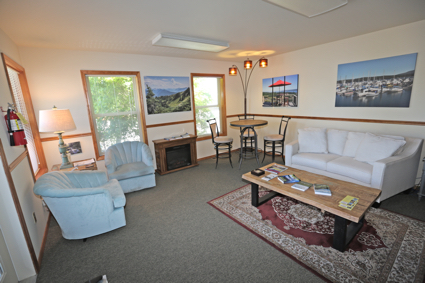 Now you know much more about iRealty. Can you see why we feel so strongly that if people really knew what we do for them, they wouldn't hire any other Realtors? But you be the judge. After all, it's your money and your life. We just hope you'll give us the privilege of serving you and proving that iRealty is above the crowd by an order of magnitude.
Last Updated on May 28, 2017 by Chuck Marunde