Sequim photos in the Sequim Photo Album have arrived.  Our clients have been asking for more photos of Sequim, the city, the mountains, the country, the beaches, and the water views.  Voila!  The Sequim Photos site is here for your viewing pleasure.  If a picture is worth a thousand words, I should probably make this a very short article and let you just look at Sequim photos.
Sequim Photos for Everyone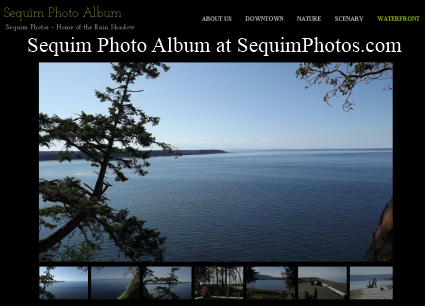 Sequim Photos of Waterfront Property
Just go to Sequim Photos and you'll see there are various photo albums with drop down menus to more photos.  Clients who are thousands of miles away can view our online Sequim MLS site, but until now they haven't been able to see what Sequim looks like.  Sequim Photos is the partial answer to seeing what Sequim really looks like from way east of Sequim to way west of Port Angeles.  In fact, we have photos from Port Hadlock and Port Ludlow to Port Townsend to Sequim to Port Angeles and all the way west to La Push Beach near Forks.

Sequim Photos Welcome
If you have a beautiful photo that you've taken in Sequim, and you'd love to see it added to Sequim Photos, please email it, and if we can, we will include it.  Who is responsible for Sequim Photos?  So glad you asked.  Your team at Sequim & Port Angeles Real Estate.  We're here to serve you and bring a little joy into your life along the way.
Last Updated on May 31, 2012 by Chuck Marunde