Sequim Real Estate: A Buyer's Guide is now available in paperback. It has previously been available in an eBook version from Amazon.com, and today we are pleased to announce that it is available in paperback.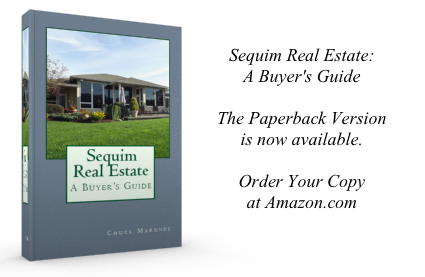 Sequim Real Estate Book
What is included in this 187 page book? You'll get 47 easy-to-read chapters that are content rich and all about buying Sequim real estate. Chapter titles include topics like, The Home Buying Process, Sequim Real Estate Maps Online, Get Away From Natural Disasters, Private Wells, The Closing Date a Moving Target, The Biggest Problem for Buyers, The Future of Sequim Real Estate, Little House by The Freeway, How Much to Offer, Homeowners' Associations, Should I Write a Backup Offer?, 75 Reasons Sequim is The Best Place to Retire, and much more.
Sequim Real Estate in Kindle or Paperback
If you have an iPad or a Kindle, you may prefer to download the eBook version, but let's face it, a lot of us still love to hold a paperback book in our hands once in a while. If you are considering buying Sequim real estate and retiring in one of the 10 Best Places to Retire in America, this book is a must read. The eBook version is only $6.99, and the paperback is $13.95. 
The author is 20 year Sequim resident Chuck Marunde who has over three decades in real estate, including 20 years as a real estate attorney. Chuck is a Sequim Buyer's Agent for retirees from around the country. Chuck has authored several books on Sequim real estate focused on helping buyers gather all the information they need to make wise buying decisions. Sequim Real Estate: A Buyer's Guide (paperback) is available on Amazon.com, and the eBook version is also on Amazon at this link: Sequim Real Estate.
Last Updated on November 12, 2013 by Chuck Marunde