Seattle hosted an Emblem3 Concert with now famous Sequim residents Wesley Stromberg, Keaton Stromberg, and Drew Chadwick. These three young men (Keaton is only 17) are extraordinary musicians and entertainers. Sequim has produced some truly gifted musicians and athletes, including the Robbie Walden Band, the Lorentzen Family Singers, and my own sons, who became world class athletes in professional strongman and mixed martial arts. Living in Sequim means we have easy access to great Seattle concerts and events. It's a short two hour trip and a pleasant drive or ferry ride.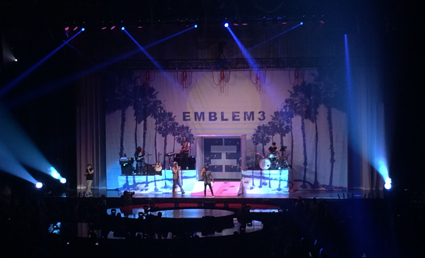 Emblem3 Concert
Emblem3 was actually the opening act of a Selena Gomez concert, and Emblem3 has been the opening act for Selena's concerts around the country. These young musicians are not only gifted, they are young men of good character. I know this because I have watched them grow up in Sequim. Of course, since I have a teenage daughter, attendance at this Emblem3 concert was mandatory. This dad had a great time taking four teenage girls to an Emblem3 and Selena Gomez concert. The girls were as much entertainment as the musicians.
Emblem3 Going Places
Emblem3 performed one of their big hits, 3000 Miles. The song talks about the memories of being 3000 miles from home. It's an emotional song for them, because they now live in California and being back home to perform this song clearly moved them and their fans. It seems very apparent that we will be hearing a lot more from Emblem3. Wesley, Keaton, and Drew are making Sequim proud. Emblem3 is also responsible for the noise that comes from many thousands of screaming teenage girls, but it's all good. If you live in Sequim, you can take advantage of some great Seattle concerts, including Emblem3.
Last Updated on November 20, 2013 by Chuck Marunde