Sequim Real Estate, A Buyer's Guide has just been published in the Amazon bookstore as an eBook. The book is packed with 47 chapters written for buyers, especially for retirees who are considering Sequim as their retirement home. This book is completely different than Chuck Marunde's previous books, and this is the first announcement of its publishing. You can download it if you have a Kindle, an iPad with the Kindle app, any other tablet with the Kindle app, or a computer with an ebook reader for the Kindle. You can see the full Table of Contents at the Amazon store in the preview.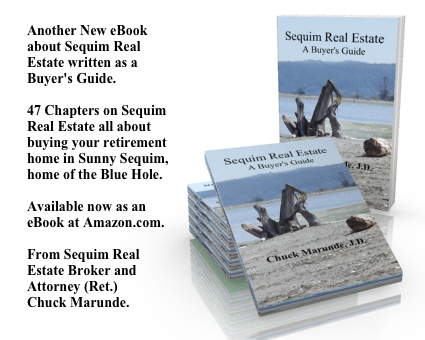 Sequim Real Estate Compared
Here's a taste of Chapter 17, "Let's compare the San Juan Islands with Sequim. If you're planning to retire to the great Northwest from California or Arizona or Texas or Colorado, you're undoubtedly looking for a milder climate, but what else are you looking for? Your online search may lead you to the beautiful islands of the Northwest outside the Seattle metropolis, the San Juan Islands. So how do we compare the San Juan Islands with Sequim?"
Sequim Real Estate for Retirees
And from Chapter 19, "For three decades I have observed the biggest mistakes buyers make, and not just a few buyers but hundreds of buyers. These are mistakes buyers make every week somewhere in the U.S., and they make them every month, year after year. And these are mistakes buyers make in Sequim and Port Angeles, too."
This book is an enjoyable read and for any buyer retiring to Sequim, it really is a must read. Chuck Marunde is constantly seeking to provide buyers with more and better information so they can make wise decisions about their Sequim real estate. You can find the book on Amazon by searching by the title, like this without the quotes, "Sequim Real Estate." Read Sequim Real Estate, A Buyer's Guide, and then contact Chuck and ask him about becoming your Sequim Buyer's Agent.
Last Updated on September 20, 2019 by Chuck Marunde