Which Sequim MLS site will you use to search for your home? Did you know there is a huge difference in the accuracy and useful information you can get on various sites? Do not use real estate portals, because some of them, like Zillow, have so much inaccurate data, you cannot rely on them. Use a local Sequim MLS site hosted by a local real estate broker that includes accurate local listing information.  But which local broker MLS site will you use?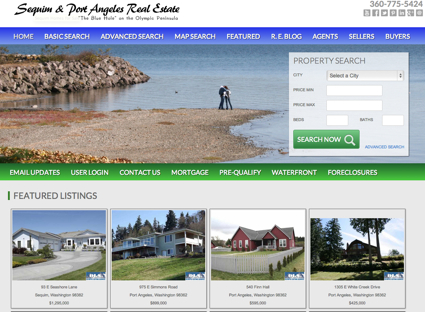 Sequim MLS Options
The Sequim MLS consists of two MLS services, the Olympic Listing Service and the Northwest MLS. Every real estate broker in Sequim and Port Angeles who is a member of an MLS has a subscription side that only they see, but every broker also has a public MLS site for buyers to use.  These sites all look different and have different functionality, different navigation, and some are better than others.
A Favorite Sequim MLS
I've used all of them, and I've helped build and program several MLS sites. After working with thousands of buyers over 37 years, I designed the ultimate public MLS site for use with the Olympic Listing Service, and buyers who learn how to use all it's features or most of them, say it is the best.  They love it.
This Sequim MLS site is easy to navigate, includes 100% of all the Sequim MLS listings, has great photo displays, includes a map showing you where each listing is, and includes information about the status of a listing, even if it is pending. You can design your own search and have the site send you immediate e-alerts when a new listing comes on the market that you might like.  There's a lot more to the site, so I recommend you play with it and find out for yourself.  You'll find this Sequim MLS site at Sequim4Sale.com.
Last Updated on September 20, 2019 by Chuck Marunde