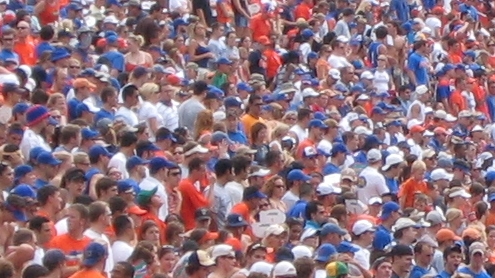 I recently read a blog by another real estate agent somewhere in the U.S. who wrote that if you are a buyer you can get good professional help in any real estate office by any agent, or words to that effect.   I disagree with that statement.
Does anyone think all lawyers are the same?   Or how about all school teachers, or football coaches, or dentists, or auto mechanics?   Of course they are not the same.   Neither are all real estate agents equal.   I recently received a very insightful question from a prospective client.   I love his question, because it shows me he really is thinking about who he retains as a Realtor, and he knows it makes a difference.   Here is his question and my answer.
Hi Chuck:
I have been corresponding via email with a couple of agents in your neck of the woods.   All are very helpful. I have read some of your articles and a question came to mind:   why should a potential buyer pick you over   other agents working diligently in the market? We haven't visited Sequim as yet, but will in June '09, and we will at that time decide if this is the place to buy a home.
Thanks, [name withheld in this article]
My response follows:
I love your question.   I wish every buyer asked that same question.   One of my pet peeves is that I compete with every Tom, Dick, and Jane who got a real estate license, but if clients don't do some due diligence, how will they ever differentiate us?   I'm not able to talk too much about my own resume on my blogs, because that would be arrogant and turn people off, including me.   [Remember reader, I'm   breaking my rule here and answering a question about myself.]   My business is client-centric, so I try to write about subjects that clients are actually interested in.   BUT since you asked a direct question, "Why should a potential buyer pick you over other agents working diligently in the market?," I will answer it directly.
1.   My education includes a B.A. in economics, a law degree with a focus on real estate, and three decades of real estate seminars on legal issues, sales and marketing, and negotiating.   But education without more is meaningless.
2.   My experience in detail would bore you here, because it includes 30 years in real estate, but suffice it to say that I've handled thousands of transactions as a Realtor in Alaska, Nevada, and Washington, and as a real estate attorney of 20 years.   (See my detailed resume.)   I just sold a $475,000 house to a buyer from California, and his testimony is probably the best reality check you could possibly get on me.   I called him and asked if he would mind if you called him and asked him how it was working with me, and he said he would be delighted to talk with you.   He's worked with other agents, too, so he can give you a real comparison.   [Client's name and number withheld]
3.   As your buyer's agent, I cost you nothing.   The seller pays my fee.   I love that.   I enjoy negotiating for my clients to get the best possible price and terms.   In once case I saved a client $80,000.   In another recent case, I helped a client as a buyer's agent buy a house for$251,000 in a very intense negotiation that saved him about $38,000.   As a buyer's agent, I'm selling a house every other month.   There are agents here who haven't sold a house in over a year.   By the way, I do no print advertising.
Here are more detailed articles that I've written for your benefit on these subjects:
How to Research Your Next Realtor
Dual Agency Can Cost You
Dual Agency and the Exclusive Buyer's Agent
Chuck Marunde's Detailed Resume
You may have seen my sites, but here are the links:

SequimRealEstateNews.com
SequimPortAngeles.com
Search the Entire Sequim & Port Angeles MLS
[name withheld], I'd love to work with you, and I honestly believe you will get more from me than any other agent.   I would recommend you meet with me when you get here, and see if you are convinced I'm competent and trustworthy.   I'm looking forward to meeting you and working with you.
Chuck E. Marunde, J.D.
Broker/Realtor
Sequim & Port Angeles Real Estate, LLC
618 South Peabody St., Suite I
Port Angeles, WA  98362
360-775-5424
Last Updated on September 2, 2019 by Chuck Marunde