Sequim real estate broker Chuck Marunde (yes, that's me) is a geek of the first order who loves to write and who loves to figure out how to use effective marketing techniques to connect with clients around the country.  I've spent my life in real estate, including 18 years in Sequim real estate, but the key to a successful business is great marketing.  Okay, now I'm switching to first person.  I do love this stuff, and I'm very excited to share some good news.
Sequim Real Estate Resources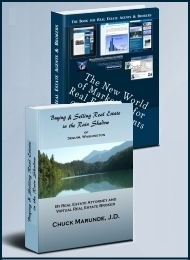 I am always trying to create more free resources for buyers.  I know that sounds contrary to running a profitable business, but I have operated my businesses my whole life based on first giving, then receiving.  So I give away a lot of information, articles, books, videos, checklists, tips, and a lot of my personal time to my clients at no cost.  I earn my commissions from sellers even when I am acting as a buyer's agent.  Yea, I love that, but so do my clients.
Today I am announcing another first for Sequim real estate.  I now have two books in the Apple iBookStore, and one is about real estate.  It is entitled, Buying and Selling Real Estate in the Rain Shadow, which has been available in the Amazon bookstore as a paperback, but is now available as an eBook in the Apple store.  This means you can download this book from the Apple iBookStore directly to your iPad or other mobile apple devices, and you can also read this same format on the Sony Reader, Amazon's Kindle, and Barnes & Nobles' Nook.

Sequim Real Estate eBook for Buyers and Sellers
The book is all about buying and selling real estate in Sequim and Port Angeles, and includes a lot of what I call "insider tips" that Sequim real estate agents may know but do not readily share with the public.  I believe that clients should have all information at their fingertips so they can make wise decisions for themselves, and I believe that there should be no conflict of interest and that clients' interests should be at the center of everything that is done in a real estate transaction.
The paperback version is 310 pages long, and this eBook version on eBook reader is less or more, depending on the size of the fonts you select.  One of the reasons so many of us love reading books on eBook readers is because we can chose the size of our font for easy reading.  If you want larger fonts to make reading easy, you just chose a larger font.  You can't do this with a paperback.
Sequim Real Estate on Mobile Devices
I was also first to have an Apple App for searching Sequim real estate in our MLS.  If you do a search in the Apple App store for "Sequim" you'll find the app called, "Sequim and Port Angeles Real Estate."  It's a free download.  But these resources are not about me being first, even though that is newsworthy.  These resources are more about giving consumers what they want and need in the Sequim real estate market–valuable and useful information for buying and selling. 
I hope you enjoy this eBook now available for your mobile eBook readers.  Another first for Sequim real estate.
Last Updated on September 4, 2011 by Chuck Marunde