Sequim real estate beach access adds tremendous value to a home, but there is so much more that beach access does for a homeowner.  Yesterday I spent time showing a client a Sequim home with private beach access and with a private trail to the beach.  Here is what happened.
We walked from the end of the road not far from the home down a narrow trail winding through the trees to the beach.  It wasn't a steep trail, but when it's wet there are a couple of places that would be slippery.  Part of the trail meanders alongside a creek, and there is a little wooden bridge across the creek, which the homeowners built as a community effort.  Maintenance of the trail is a volunteer project of the homeowners, and according to homeowners, this has gone very smoothly.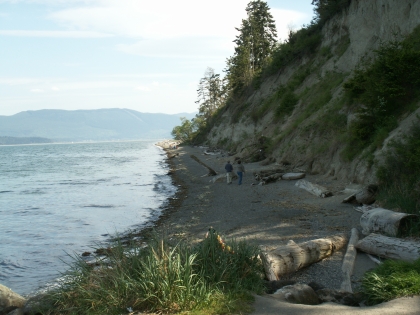 The distance from the top of the trail to the beach is one-third of a mile.  I know because I measured it with a GPS device.  In other words, it is a nice little jaunt, and depending upon how far one's home is from the top of the trail, it can be a nice walk of two-thirds of a mile to two miles to the beach and back.  Sequim real estate beach access like this is actually not that common, at least not for homes that are for sale.  Those who have this kind of property and beach access rarely list their homes for sale.
As we walked down the trail and climbed the short hill near the end, we could hear the waves crashing on the beach before we saw them.  Then as we topped the crest of the trail, suddenly we were looking at a stunning view of the beach with the creek pouring into the Strait and waves announcing their power as they crashed onto the beach with that familiar ebb and flow.
As we walked down the trail and then back again, my client who is considering making an offer on this home, would spurt out excited utterances expressing his obvious appreciation for the beauty of nature and the value he saw in this trail as a homeowner.  "Wow, this is absolutely heavenly!," and "I can't believe this!," and "This is so beautiful and peaceful down here."
We talked later about the emotional and spiritual component this person perceived in being able to walk from his own home down a trail to the beach, a private trail and rarely anyone on the beach in this location.  There is something peaceful and extraordinary about having a trail with beach access.  I've spent time along the beaches in this area, walking, jogging, reflecting.  How do you attach a price tag to this kind of amenity?  What value would you attach to something  precious that brings peace and joy into your life, like a trail to the beach?
Sequim real estate beach access right from your home would definitely be a piece of heaven.  If I can help you find your corner of heaven in Sequim, email me or call me (360) 775-5424.  It would be my pleasure to help.
Last Updated on July 27, 2012 by Chuck Marunde