How about some Sequim real estate for Christmas?  Perhaps a beautiful custom built home at the end of a cul de sac? Maybe a gorgeous ready-to-move-into home painted a soft yellow with a bright red bow on the front of the home?  Santa delivered early this year to seven clients of mine.  
Sequim Real Estate with a Red Bow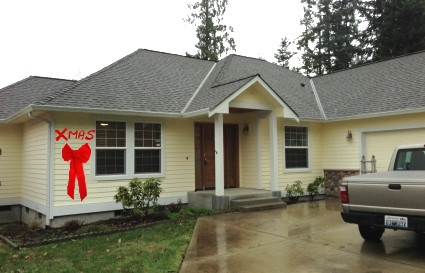 Sequim Real Estate – Ho Ho Ho
I know from talking with many clients who have retired in Sequim, it is a challenging time.  There is so much to think about, so much to plan, and there's the uncertainty of it all.  I sketched out the major issues that have been confirmed by other retirees in another article and a graphic at Retire in Sequim: 4 Things You Must Get Right.  
This Christmas seven of my clients are experiencing very special gifts–five have found the perfect dream home in Sequim and Port Angeles, and two have sold their homes so they can move on with the next phase in their lives.  Thank God the Sequim real estate market is alive and well this Christmas season.
As Marc and Megan's Sequim Buyer's Agent, it has been a pleasure to work with them, first by email and on the telephone, and then as they came to look at homes, and finally as we narrowed it down to "the one" (in the photo above), drafted an offer, reached mutual acceptance, and finally as we worked through the due diligence issues.  No transaction is without it's challenges, but we did get through all the major challenges on this transaction just in time for Christmas. Merry Christmas Marc and Megan!
Sequim Real Estate
If you haven't found your Sequim home yet, it's not too late to find it during the holidays.  Email or call me to help find that perfect Sequim real estate to complete your retirement plans in Paradise, aka the Sequim Blue Hole.
Last Updated on December 16, 2012 by Chuck Marunde