Selling Sequim real estate today is not the same as selling real estate was 10 or 20 years ago.  Many homeowners want to sell their homes themselves to save the real estate commission, or because they don't have confidence in real estate agents.  Some homeowners have sold homes before, 10 or 15 years ago.  But the world has changed.  Selling Sequim real estate has changed.  The advertising methods that sold Sequim real estate 10 or 15 years ago, or even 5 years ago are not so effective anymore.
Advertising Sequim Real Estate
There was a time when FSBOs and Realtors could run an ad in the local classifieds of the print edition of a newspaper and get their Sequim real estate sold.  Buyers started their search for a home by reading the classifieds every day, or at least on Sunday.  The world has changed in the past two decades, and especially in the past five years.
"The overwhelming problem newspaper publishers face is that subscriptions are dropping as people can easily get their news free on the Internet 24/7, and businesses are cutting expensive advertising from their budgets because they cannot afford it, and because it is no longer producing the results they need.  In addition, newspapers are not able to charge as much for online advertising as they used to charge for the print version.  Online advertising rates are a fraction of print rates.  This is killing newspapers. . . . Ladies and gentlemen, you are witnesses to the slow death of the print version of the American newspaper.  How does this impact the real estate business?  Buyers are primarily searching the Internet, not print classifieds, and for sellers this becomes vital information."  [Quoting from page 135, Buying and Selling Real Estate in the Rain Shadow by Chuck Marunde.]
Sequim Real Estate on the Internet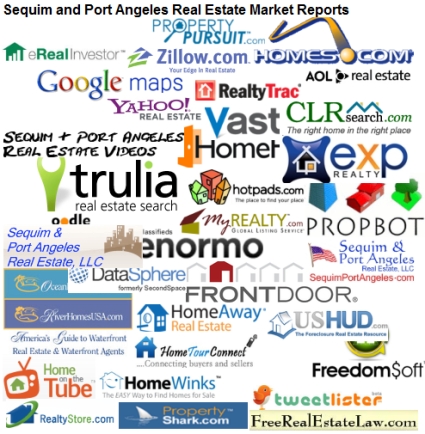 When I list and market Sequim real estate, my marketing campaign is very comprehensive, and it seeks to connect with buyers right where they are 24/7.  I use the Internet extensively, and syndicated sites for my listings are just the tip of the iceberg.  I keep my entire marketing plan for selling Sequim real estate confidential, at least between me and my clients.  There's no reason to be giving my most successful techniques to Realtors who have not paid the price with years in the school of hard knocks.  The benefits of my investment accrue to my clients alone.
Sequim Real Estate Marketing
If you want to sell your home or your vacant land, realize that the world of marketing and advertising has changed.  Sequim real estate must be marketed effectively using the latest technologies to get the job done.
Last Updated on July 27, 2012 by Chuck Marunde