Sunny Farms in Sequim is unquestionably Sequim's most popular organic health food store.  Its appeal has become a part of local lore.  It's a well managed family owned country store that has become a hit beyond anything paid advertising could ever do.  Customers learn about Sunny Farms by word of mouth, but once you start shopping there, you won't want to go back to the corporate grocery stores.  There is a marked difference in the quality of the food and the taste of the food.
Sunny Farms in Sequim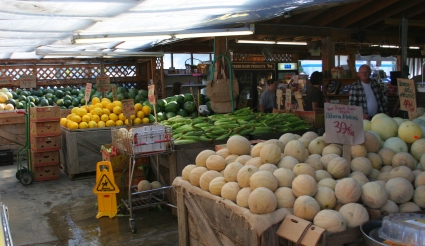 Sunny Farms in Sequim is an Organic Country Store
Sequim's Sunny Farms is a welcome change from the processed foods sold in the large national grocery stores.  What a delight to be able buy organic vegetables, fruits, breads and dairy products.  There was a time when I did all my shopping at Safeway, QFC, or Costco.  I still do shop at those stores for some items, and all the employees at those stores are wonderful, but once I began to buy my vegetables and fruits at Sunny Farms in Sequim, I can't go back to processed foods grown in mass quantities that end up with so much less flavor, not to mention less nutrition (and packed full of chemical names I cannot pronounce).
Organic Vegetables at Sunny Farms in Sequim
Many of us have become more aware of the importance of a healthy diet and regular exercise.  Heart disease, cancer, diabetes, and a long list of health issues has plagued Americans, in no small part because of a lack of good nutrition and a proper diet.  It was an adjustment in my diet, but I am enjoying the fresh organic vegetables I buy at Sunny Farms in Sequim, and oddly enough, I now even enjoy the adventure of shopping for and selecting my vegetables and fruits.  Warning:  This store is usually very busy, the isles are narrow, and your cart will feel like a car on the I-5 corridor at rush hour.
A Blender and a Juice Extractor
I use a Blendtec blender to make healthy smoothies consisting of fruits and a little protein and psyllium, and I use an Omega 8005 Juice Extractor to blend the freshest organic vegetables.  If quality of life and feeling good is important to you, you might want to visit Sunny Farms in Sequim.
Last Updated on July 27, 2012 by Chuck Marunde