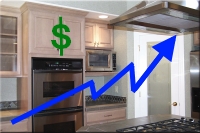 The Sequim real estate market is doing fine, despite national reports that the real estate market is down.  Northwest Multiple Listing Service (NWMLS) members reported strong gains in home sales during February, with brokers pointing to several encouraging signs for a busy spring season. Improving consumer confidence and a looming deadline for homebuyer tax credits are helping to boost activity, according to NWMLS officials.
Pending sales (offers made and accepted, but not yet closed) jumped nearly 45 percent last month compared to a year ago, marking the 11th straight month of month-over-month increases. Twelve of the 21 counties in the MLS market area reported double-digit gains in pending sales, led by San Juan County (up 85.7 percent), Snohomish County (up nearly 71 percent) and King County (up nearly 63 percent).
Closed sales also outperformed year-ago totals, rising 33.5 percent. Members tallied 3,214 completed transactions last month, up from the 2,407 closed sales for February 2009.
Prices, while showing signs of stabilizing, still lagged year-ago figures. Area-wide, the median price for last month's closed sales of single family homes and condominiums (combined) was $260,000, down about 6.5 percent from a year ago. The median price for single family homes (excluding condos) dipped 4.6 percent, while condo prices declined nearly 9 percent.
In the four-county Puget Sound region, the median price for single family homes that sold and closed last month was $297,000, down about 2.6 percent from the year-ago figure of $305,000. Condo prices in the area fell 7.7 percent, from the year-ago selling price of $253,000 to $233,500 for last month's sales.
Move-up buyers are accounting for some of the surge in activity. Brokers credit the combination of a $6,500 tax incentive for qualified repeat buyers and thawing jumbo loan market as factors in spurring activity for this segment.
Earlier in the week, the state Employment Security Department reported the state's economy "picked up some steam in January," adding an estimated 12,400 jobs – the first monthly gain since November 2008.
Northwest Multiple Listing Service, owned by its member brokers, is the largest full-service MLS in the Northwest. Its membership includes more than 24,000 brokers and agents. The organization, based in Kirkland, currently serves 21 counties in western and central Washington. Ferry and Clallam counties are now included in the monthly statistical reports.
The Sequim real estate market ha s long been more stable than our national real estate market and many weak areas of the country.  Port Angeles, which is only 15 miles from Sequim, is also a stable residential real estate market.
Last Updated on July 27, 2012 by Chuck Marunde