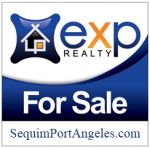 Chuck Marunde, Broker of Sequim & Port Angeles Real Estate, is pleased to announce a very exciting development that will substantially increase his already large Internet presence.  Sequim & Port Angeles Real Estate is now a Branch Office of eXp Realty, the World's First Fully Immersive Web 3.0 Real Estate Brokerage.
"This gives me an opportunity to continue to do precisely what I have been doing, connecting with buyers from around the country, 85% of whom are using the Internet to search for their next homes, and to broadcast listings with the most powerful marketing tools for selling real estate today.  By associating with eXp Realty, I'm taking my game to an entirely new level," ads Chuck enthusiastically.  eXp Realty Founder Glenn Sanford describes the company this way:
eXp Realty is a National Real Estate Brokerage with an innovative business environment for collaborating, supporting agents with their listings and transactions, and an ecosystem for social interaction in and outside of the organization.  eXp Realty launched in the fall of 2009, following a name change from BuyerTours Realty (Est. 2007), as a leader in real estate technology and agent compensation, melting away the traditional brick and mortar business model and moving towards a true virtual community, that keeps agent in contact with top agents, the best ideas and technology from around the world.
Our Mission at eXp Realty is to lead the Web 3.0 Real Estate Revolution and the Resulting Industry Paradigm Shift.  eXp Culture is: Virtual, Viral, Transparent, Green, Collaborative, Supportive, Professional, Dynamic, & Paradigm Shifting – with an Emphasis on Relationship Building and Personal Service!
We Provide: Multiple Income Streams, Collaborative and Persistent Education, A Paperless Cutting Edge Technology Platform, and Committee Style Leadership.  Contributing to the success of eXp Realty is an aggressive and favorable growth incentive for all affiliates, a large network of high-trafficked real estate websites in major metros across the country and a streamlined education and mentoring platform to ensure agents success within the system.
For clients all this means they will continue to get the best Internet information, news, and tools on Chuck's websites and blogs, along with his continued commitment to a consumer-centric focus placing clients at the center of the Universe in terms of honesty and customer service, but the new affiliation with eXp Realty increases the Internet tools available to clients, increases the back office digital support, increases the knowledge and technical expertise working for clients, and ultimately increases the broad marketing of listings on the Internet as well as more platforms to connect with buyers across the country.  The winners in all of this are buyers and sellers as well as Chuck as a broker and agents who work with Chuck, who will earn not only 80% of their commissions, but also earn the right to residual income from an extraordinary company payout plan.
Dale Kreiser, Washington State Broker of eXp Realty, said, "Chuck gets it.  He really understands where the real estate business has been and where the future of real estate brokerage is going.  He's been successfully building a powerful Internet presence and giving his clients great customer service, especially with his experience as a real estate attorney for 20 years, so we are very excited about Chuck joining us with the opening of our branch office which covers both the Sequim and Port Angeles markets.  This is a perfect fit because of our common values and goals and in the way that we are using modern technology and the Internet to serve our clients' needs.  Now our national brokerage and our strong team of professionals will be backing up and supporting all that Chuck is doing to serve his Sequim and Port Angeles clients.  This is a winning scenario"
Learn more about eXp Realty.
Last Updated on July 27, 2012 by Chuck Marunde