Sequim Real Estate Q and A is now available for buyers.  The purpose of this site is to provide answers to the most widely asked questions from buyers around the country who intend to retire in Sequim and Port Angeles.  This site focuses on the important issues that buyers need and want to understand. You'll see the "Submit a Question" button in the right column of Sequim Real Estate Q and A.
UPDATE: We have replaced this Q&A for our new FAQ in the menu on our home page, plus our powerful search tool for over 2,200 articles. [Dated September of 2019]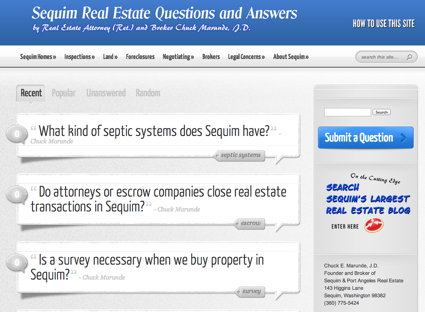 Not only can you ask questions at Sequim Real Estate Q and A, you can participate in answering the questions that others have posted.  I have the experience to answer many buyer questions, but there's nothing like the collective experience of many buyers to answer and reflect on a particular real estate issue, and sharing that experience will be very valuable to other buyers moving to Sequim.
Sequim Real Estate Q and A Info Online
You can search Sequim Real Estate Q and A to see if your question has already been raised and answered by using the search box.  I recommend typing in several combinations of the word or phrase you are searching.  You can also browse Sequim Real Estate Q and A by using the menu at the top of the site.  If you don't find your question, by all means submit your question.  My answers are often posted within hours, but almost always within 24 hours.  Even if someone has asked a similar question, your question may have a different emphasis, so don't hesitate to ask your question the way you would phrase it.  
Sequim Real Estate Q and A Sharing
You can also leave a comment on Sequim Real Estate Q and A or add an answer expanding on an existing answer.  Sometimes there is more than one answer, and sometimes an additional perspective should be shared.  Your perspective is valuable.  If Sequim Real Estate Q and A is helpful to you, please let us know.
Last Updated on September 19, 2019 by Chuck Marunde