A cash offer does have an advantage in the Sequim real estate market.  The reason is not because the seller gets a higher price. They do not.  And whether the offer is a cash offer or includes financing, the seller still gets paid in full at closing.  But there is an important reason a cash offer is more attractive to a seller.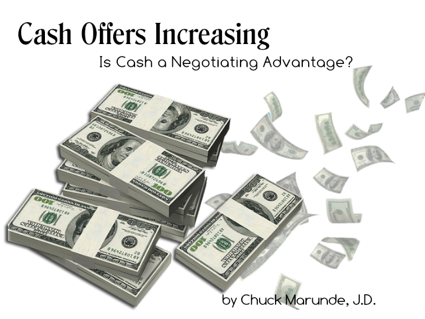 Cash Offer Picking Up
In Oakland, California homes are receiving multiple offers above the listed price.  In one story, after nine offers by a buyer in which she was outbid by other buyers, a woman paid $100,000 more than the listed price to get a home.  See the video here. A third of the buyers in Oakland are going with a cash offer.
Cash Offer in Sequim
Sequim is not Oakland, but I'm drafting a cash offer for one of my clients on a regular basis this year.  With the real estate market getting hot in many other areas of the country, retirees who sell and move to Sequim are coming with more cash than in past years.
Cash Offer Advantage for Buyers
The main reason a cash offer appeals to sellers is because it eliminates the need for the lengthy loan application process, the entire appraisal process, and the bureaucratic underwriting hurdles.  A transaction can be killed in any one of those processes.  A cash offer can be closed sooner as a result.  In other words, a cash offer reduces uncertainty for sellers, and that is an advantage for a buyer who is in a position to make a cash offer.
Last Updated on January 6, 2021 by Chuck Marunde