Sequim real estate sales in the first quarter of 2012 are an indication of whether the Sequim real estate market is recovering or still on hold.  The national real estate market is showing some signs of recovery according to the National Association or Realtors Chief Economist, Lawrence Yun.  Since many of our buyers are retirees who must sell their homes in other states, this is relevant.  Here is a chart showing Sequim real estate sales in the first three months of the year from 2005 (our peak year) to 2012.
Sequim Real Estate Sales Graph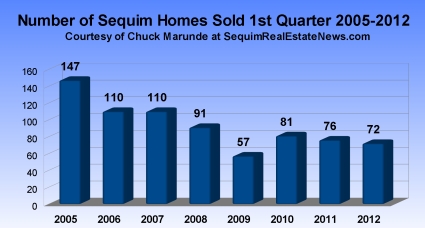 Sequim Real Estate v. National Sales
As shown in this graph, the last three years have been pretty even, 81 homes sold in Sequim in 2010, 76 homes in 2011, and this year 72 homes.
Here is the positive news from the NAR Economist.
Existing-home sales were down in March but continue to outpace year-ago levels, while inventory tightened and home prices are showing further signs of stabilizing, according to the National Association of Realtors.  Total existing-home sales, which are completed transactions that include single-family homes, townhomes, condominiums and co-ops, declined 2.6 percent to a seasonally adjusted annual rate of 4.48 million in March from an upwardly revised 4.60 million in February, but are 5.2 percent above the 4.26 million-unit pace in March 2011.
Lawrence Yun said the recovery is in the process of settling into a higher level of home sales.  "The recovery is happening though not at a breakout pace, but we have seen nine consecutive months of year-over-year sales increases," he said.  "Existing-home sales are moving up and down in a fairly narrow range that is well above the level of activity during the first half of last year.  With job growth, low interest rates, bargain home prices and an improving economy, the pent-up demand is coming to market and we expect housing to be notably better this year."
Also on a national level, total housing inventory at the end of March declined 1.3 percent to 2.37 million existing homes available for sale, which represents a 6.3-month supply2 at the current sales pace, the same as in February.  Listed inventory is 21.8 percent below a year ago and well below the record of 4.04 million in July 2007.
"We were expecting a seasonal increase in home listings, but a lack of inventory has suddenly become an issue in several markets with not enough homes for sale in relation to buyer interest," Yun said.  "Home sales could be held back because of supply factors and not by demand – we're already seeing this in the Western states and in South Florida."
The national median existing-home price3 for all housing types was $163,800 in March, up 2.5 percent from March 2011.  Distressed homes4 – foreclosures and short sales sold at deep discounts – accounted for 29 percent of March sales (18 percent were foreclosures and 11 percent were short sales), compared with 34 percent in February and 40 percent in March 2011.
Foreclosures typically sold for an average 19 percent below market price in March across the U.S., while short sales were discounted 16 percent.
Sequim Real Estate Sales On Pace
Sequim real estate sales do not track national sales precisely, and I've written that the Sequim real estate market is shielded to some extent from the national market, but we're clearly still impacted.
Last Updated on April 19, 2012 by Chuck Marunde