Port Hadlock is a short and very pleasant drive from Sequim.  Port Hadlock is of interest to retirees moving to Sequim for two reasons.  First, every once in a while one of my clients cannot find their ideal home in Sequim, and so we extend our search to Port Townsend, Port Ludlow, and Port Hadlock.  All three have stunning water views and marinas and a similar country character.  But Sequim remains the number one retirement destination on the Olympic Peninsula.  Fortunately, I am a member of two MLSs, including the NWMLS MLS which allows me to show houses in these other areas and open the lockboxes.  (Not all Sequim agents are members of the NWMLS.)  Here is a photo I took this weekend of the Port Hadlock Marina.  I wish I could share the fresh breeze that brought in that indescribable salt water smell fishermen love so much.  What a gorgeous day it was to be exploring Port Hadlock!
Port Hadlock Marina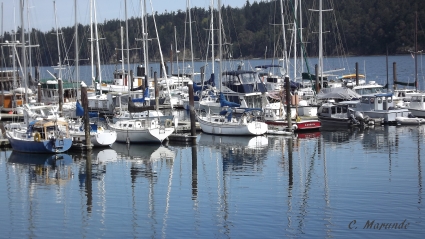 Port Hadlock Wooden Boatbuilding
Port Hadlock is home to the Northwest School of Wooden Boatbuilding.  Here's a photo I could not resist taking.  As I stood looking at this wooden boat under construction with hand held tools to carve and sand and press the wood together, I couldn't help but feel like I had been transported back to an earlier time when building wooden boats was a major industry.  The good news is that this ancient art is still alive and well in Port Hadlock.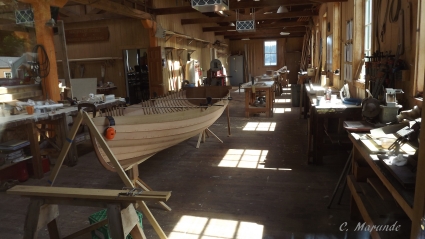 Port Hadlock – Fireside Restaurant
I was in Port Hadlock to show a home to a couple, and I spent the rest of the day exploring.  Of course, I got hungry around the noon hour, and as I continued my drive around the bay, I found myself at the Fireside Restaurant near the Port Lundlow Marina.  The restaurant is in the Resort at Port Ludlow, and what a classy resort.  The Fireside Restaurant has a great menu, but the Marina Chop Salad I had was the tastiest salad I believe I have ever had in my life!  As I sat enjoying my lunch and an incredible cup of gourmet coffee, I took some notes.  You can imagine that as an author of several books and thousands of articles on real estate, I always carry a notebook and pen with me.  These pleasant surroundings are ideal for creative thinking.  Of course, this is also an ideal environment for good conversation or a romantic dinner.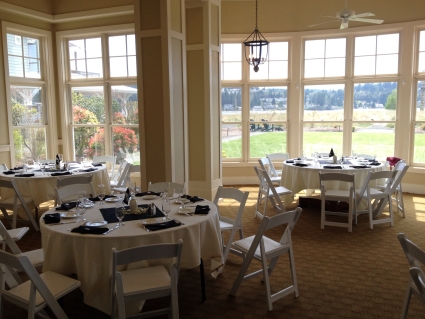 Port Hadlock Real Estate
You can add Port Hadlock to your real estate search online with my Port Hadlock MLS search.  (Select the city Port Hadlock for your search.)  But if you find your ideal retirement home in Sequim, you'll love the option of a Saturday afternoon drive to Port Townsend, or Port Ludlow, or Port Hadlock.
Last Updated on June 17, 2019 by Chuck Marunde