Sequim real estate transactions are never boring.  No two transactions are alike.  Buyers rarely see all the excitement behind the scenes, so today I'll share some of the excitement of the last two days of Sequim real estate transactions.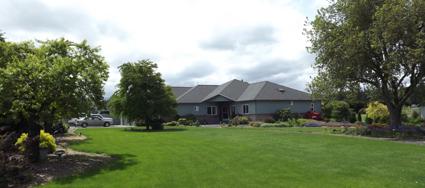 Sequim Real Estate Transactions – Sold
Yesterday I listed a beautiful three bedroom single level home on an acre of landscaped Heaven.  I took photos, uploaded the listing data and photos to both MLSs, and installed my signage and a lockbox.  The owner, my client, was looking to downsize and had a sweet condo in mind.  I drafted the offer on the condo subject to the sale of her own home.  That was yesterday, and it was yesterday that I learned a cash offer came in on that condo from another buyer, and the seller accepted that other offer.  That was a disappointment for my client.
Sequim Real Estate Transactions – Quick Offer
Yesterday evening an offer came in on my client's home.  That was very encouraging, because she listed the home and received an offer on the same day.  We scheduled time to get together the next day, which was today.  Little did I know the excitement had only just begun for these Sequim real estate transactions.
Sequim Real Estate Transactions – Excitement
This morning I received an email from the agent representing the buyers.  In the email he first apologized for the inconvenience, and then went on to say that his clients revoked their offer before my client could accept it.  They apparently felt they acted too hastily, and they also had reservations about doing so much yard work.  This was my client's second disappointment.
Tom Selleck played in a movie entitled Crossfire Trail.  In a single day his life was threatened several times.  As Selleck and actor Wilford Brimley rode away from another near death experience, Brimley said to Selleck, "I'm surprised you lived through the day," and Selleck responds, "Well, the day isn't over yet."  
I never assume the excitement is over when it comes to Sequim real estate transactions as long as there is still some day left.  And late today my client who listed her home with me yesterday called to say she decided to take her home off the market and stay put.  One might think all this would be a roller coaster ride for a Sequim Realtor, but I take it all in stride.  My focus is not the sale, but each of my client's best interests.  If my client decides not to sell, I'm good with that.  Still, it has been a lot of paperwork in two days, all quickly undone, and I have to admit, it's been exciting.  Wow, what a couple of days when it comes to Sequim real estate transactions.  Can't wait until tomorrow.
Last Updated on September 19, 2019 by Chuck Marunde