Is Sequim real estate suddenly hard to find?  I've been writing for the past three years how the "best real estate in the best areas at the best prices" is selling to qualified buyers, and the inventory has been shrinking slowly.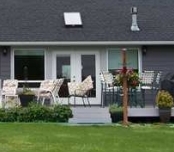 This week I had two different buyers who each had focused on  Sequim real estate they found online.  They each found the perfect retirement home, just what they had been looking for, and the prices were very reasonable on both homes.  Each buyer planned to come to Sequim this week to look at these homes, and very likely write offers.  So what happened this week when they arrived?  Both homes were sold before they could look at them.

Sequim Real Estate Available?
In fact, both homes were sold within days of being listed.  There was a time when Sequim real estate would be expected to sit on the market for months before getting an offer, but retirees are scouring the market for months before they arrive, and when they filter down their list of ideal homes to a few, before they can arrive those few homes are often sold now.  Why?  Because others are doing the exact same thing, and the first one to come and look at the home, the first one to draft the offer and reach mutual acceptance with the seller wins.  End of story.
Tips on Buying Sequim Real Estate
If you find the perfect home online in the MLS, the perfect Sequim real estate, and you really want to know more about it, call or email me so I can go preview it and give you my feedback quickly.  If it is the home of your dreams, procrastination even for a few days can mean someone else may buy it out from under you.  This is no sales pitch.  This is reality, and this week alone it happened again to two of my clients.  Don't worry, I don't believe in making rash decisions.  After 20 years of real estate law practice, I know how to help you do all the due diligence you need to do prior to closing.  But first things first.  Find your Sequim real estate and make an offer before it is sold to someone else.

Last Updated on September 19, 2019 by Chuck Marunde