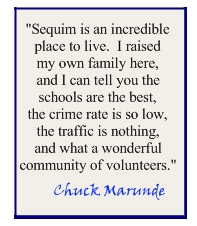 Relocating to Sequim, Washington is not a hard decision if you've been to Sequim many times, or if you have family here. This is one of the best kept secrets for retirees, and if this is where you've been planning to move for years, it's an easy decision.
If you haven't lived here or spent a lot of time here, you might need to do some research to find out for sure if this is to be your next home. To make your research a little easier, here are some great links about Sequim, the climate, the real estate market, the John Wayne Marina, recreation, and articles on Sequim.
Just go through these pages, and you'll find the equivalent of an entire relocation package, actually much more than you would get if someone where to simply mail you a package.


#1 – Sequim Facts

#2 – Sequim Special Activities

#3 – Sequim Real Estate News
#4 – Search the Sequim MLS for Over 1,500 Listings For Sale
This is a free service offered courtesy of your host,

Best regards,
Last Updated on July 6, 2008 by Chuck Marunde