Las Vegas is an easy trip from Sequim. But the point is not just that Las Vegas to Sequim is an enjoyable and easy trip: the point is that traveling from Sequim to any major city in the United States is easy because of our local transportation network. It's a pleasant 2 hour drive from Sequim to Sea-Tac, and from Sea-Tac you can fly to Las Vegas in 2 hours. From Sequim you are only a 2 hour flight to nearly half the U.S., all the way down the west coast and to the midwest. This makes taking trips or visiting children almost easy.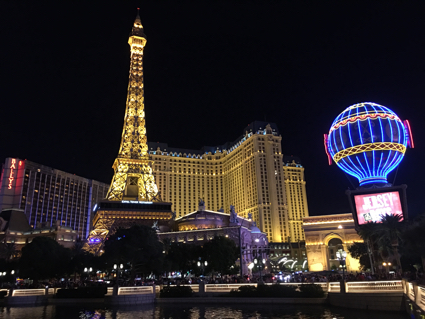 Las Vegas to Sequim and Back
I recently visited some of my own family and traveled from Sequim to Sea-Tac and to Las Vegas. The drive from Sequim to Sea-Tac includes both two and four lane highways that are rarely busy. Unless you're traveling on a major holiday, you won't see traffic jams. Sea-Tac is one of the country's best airports, and while you're waiting to board your flight, the restaurants and coffee shops are delightful. 
Tips for Traveling to Las Vegas or Any City From Sequim
If you are driving your own vehicle from Sequim to Sea-Tac for a few days to a week, you will want to park in a secure facility that is fenced and gated with full time employees. Some of the big Sea-Tac parking lots that are advertised are constantly experiencing car thefts and break-ins. They don't tell you that, and there is a disclaimer of liability on the back of their tickets. I recommend MVP Parking. The cost is only about $10 a night, and it is secure 24/7.
If you rent a car in Las Vegas, beware of false advertising. The promotional rates are rarely the true cost, and when you get to the rental desk to pick up your car, you may find out that with all the add-ons, your rental rate is two to three times the online quote. Plan way ahead on the rental car, and talk to human beings to get confirmations of what you will actually be required to pay. Otherwise, you car rental is likely to be more than your round trip flight tickets.
By the way, Las Vegas is not interesting because of the gambling, the dancing girls, or any of the other nonsense. It is interesting because it's a great place to visit family or attend a convention, and while there, you can sample some of the best restaurants in the entire country as well as some fascinating shops and art stores. Family, friends, good food. That's the real fun in Las Vegas.
Last Updated on November 8, 2015 by Chuck Marunde