Sequim Resources for Buyers is a better way of organizing a tremendous number of valuable tools for buyers. Because this site and the tools created here are always being improved for buyers, it became obvious that there had to be a better way to help buyers find these resources easier. You will now find a tab at the top of the Blog called "Resources for Buyers." This includes some of the primary resources available with links directly to each of them.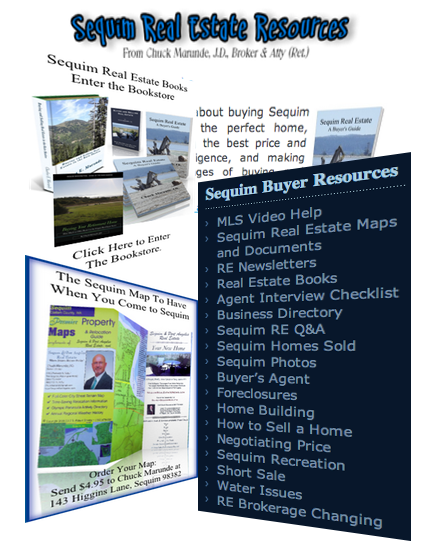 Sequim Resources Online
You'll find a new list of "Sequim Buyer Resources" that will always be up-to-date in the right margin of this Blog. These great links have been online for a while, some of them for years, but great tools are only great if you can find them.
Sequim Resources – Maps and Books
You'll also find a newly created page with all of Chuck Marunde's Sequim real estate books in this list of Sequim resources. And we have a new tool for buyers added to the list: a new Sequim map designed exclusively for Chuck and only available though Sequim & Port Angeles, LLC.  I strongly urge you to go though each tool in the Sequim Buyers Resources list so you can find the tools that you feel will help you most in your home search. Enjoy these tools, and if they are helpful, please let us know. Chuck Marunde never stops creating valuable Sequim resources for buyers.
Last Updated on November 8, 2017 by Chuck Marunde