This Sequim sunset opens the new year with a gorgeous display as seen from this high bluff trail off Lotzgeselle Road.  I took this photo with an iPhone.  I'm constantly amazed at the technologies we have at our fingertips these days.  Of course, it is my job as a Sequim Realtor to look at real estate, so as I enjoyed a moment of serene beauty, I also was doing my job.  It's a great job!  You can view a larger image by clicking on the photo below.
Sequim Sunset Ushers in the New Year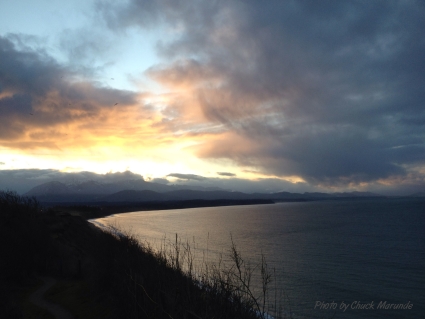 Sequim Sunset – Regular or Supersized
This is always a great place to enjoy a Sequim sunset, because of the high and unobstructed vantage point.  This location is in a park off Lotzgeselle Road near the northernmost end of Kitchen-Dick Road.  [Yes, that's the name of the road, a source of humor for many.  We have some interesting road names here.]  We're looking to the west with the north to the right.  On a clear day we would see Victoria, B.C. to the north across the Strait of Juan de Fuca.  On the horizon are the Olympic Mountains. 
Sequim Sunset in the Blue Hole

Sequim is about six miles to the southeast of this location.  This park is also the entrance to the spit, home of the Sequim-Dungeness Lighthouse.  And just a couple of miles away along the coast is the true center of the Sequim Blue Hole or the Sequim Rain Shadow as it is known.
As I walked this trail along the bluff, I passed several couples closing their day with a sunset walk.  Several were walking with their dogs, and two were on bicycles.  Everyone was very friendly.  People actually greet each other with a warm smile and a kind word or two when they pass.  No wonder we love living here so much!  A beautiful Sequim sunset is just frosting on the cake, or perhaps I should say God's glory displayed on the Olympics.
Last Updated on January 7, 2012 by Chuck Marunde