Sequim MLS listings (homes) are way down as we enter 2012.  They are down so much, it is worth pausing to consider why?  This is true of Port Angeles, too.  I cannot recall when we had so few homes in Port Angeles listed in the MLS.  As of today there are only 230 homes in the Port Angeles MLS area, and that includes a large radius east and west of Port Angeles.  When the search parameters are narrowed for Port Angeles homes between $200,000 and $325,000 where many retirees want to be, there are only 57 homes listed in the Port Angeles MLS.
Sequim MLS Listings Way Down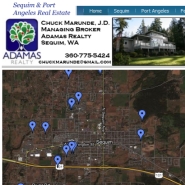 There is a total of 399 homes listed in the Sequim MLS area, which includes an area much wider than the Sequim city limits in all directions.  There are only 120 Sequim MLS listings (homes) for sale in the $200,000 to $325,000 price range.  These numbers are way down from previous years, so the question is why?  Perhaps other ways to address this scenario is with these questions, "Why are so many sellers not listing their homes for sale in the Sequim MLS?  Are they keeping their homes off the market because prices are low or because they are tired of having their homes listed for sale but not selling?  Or did their listings expire on December 31st and they don't have confidence in their real estate agents, so they don't renew the listings?  Or are they waiting for the winter to pass, thinking that buyers are not looking at homes in the cold months?
Why Sequim MLS Listings Are Down
I've talked with many home owners, and the answers vary, but the reasons given include all of the above.  Many homeowners are just tired of having their home listed with no substantive activity and no sale.  Many have said that it takes an emotional commitment to keep a home listed and always ready to show at a moment's notice.  That can be tiring.  So some have simply said, "We're taking it off the market for a while."  
One couple told me they had their home on the market for over two years, and they had no serious lookers.  They decided to take it off the market until the real estate market comes back, and they believe that may be three to five years.  Another couple told me they were not happy with their real estate agent.  That doesn't tell us why the house didn't sell.  It could have been over priced or maybe it was not the floor plan or area that retirees wanted.  Or maybe their real estate agent didn't market it well.  We don't know, but it does tell us how the sellers feel about the process.  They're frustrated.
Apart from Sequim MLS listings (homes), Sequim land listings are up.  There are a total of 736 vacant lots for sale in the entire Sequim and Port Angeles area, 480 in Sequim and 276 in Port Angeles.  Why so many lots?  Buyers are not buying lots and building homes lately.  The cost per square foot of a new home today is more than the cost of similar Sequim MLS listings (homes).  I have sold a few lots and have some clients building, but the numbers are down.  That means the listings for vacant lots are way up, and sellers are leaving those listings in active status in the MLS.
Sequim MLS Listings – A Super Buyer's Market
What does all of this mean for buyers?  It is more proof that this is a buyer's market, or as I like to say to make the point, "this is a super buyer's market."  This is not good news for sellers, but it is great news for buyers.  I spent today showing houses to a wonderful couple, and I have three other couples all looking at homes, having already decided they will buy a home in the Sequim area.  And as a note of interest, none of these couples are looking at Port Angeles homes.  That's interesting.
Interested in seeing what is currently listed for sale?  You can search the database of all Sequim MLS listings (and all Port Angeles MLS listings) at Sequim Homes for Sale.
Last Updated on January 10, 2012 by Chuck Marunde