Sequim WA is one of the most peaceful retirement communities on the west coast.  [I love typing "Sequim WA" because so many people write "Sequim WA" when they are emailing or searching the Internet, so I cannot resist typing Sequim WA in this article.]  There's something special about living in western Washington, and especially on the Olympic Peninsula.  Sequim and Port Angeles are on the Olympic Peninsula in a peaceful setting on the shores of the Strait of Juan de Fuca to the north and the natural beauty of the Olympic Mountains to the south.
Sequim WA is Farm Country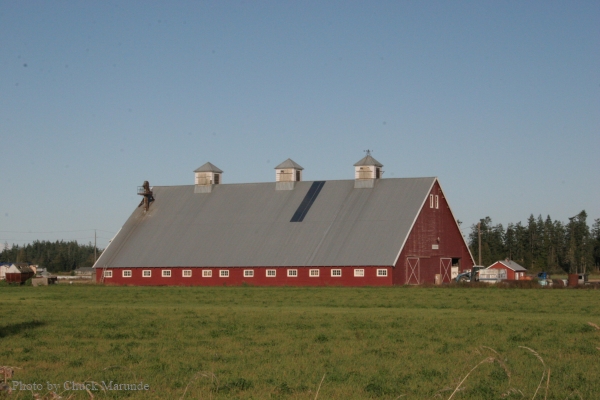 Sequim WA is Between Sea and Mountains
Sequim WA has a long agricultural and farming history.  I lived on a small farm in Sequim when my children were young.  In fact, my youngest daughter who is now 14, was born in a 100 year old farmhouse with the help of a midwife.  This farm was a cattle grazing farm for over 100 years.  In the beginning Sequim WA was a big source of milk and other dairy products for the Seattle area when Seattle was a thriving new community on the west coast.
Sequim WA Became a Retirement Destination
As retirees discovered the Sequim valley, the demand for homes and land grew slowly over the past several decades, and more rapidly in the 1990s.  In 2006 the real estate market around the country slowed down, but retirees have not stopped moving to Sequim and Port Angeles.  Even as the rest of the country suffers from the devastating high foreclosure rate, which we do not have in Sequim WA, retirees who have been planning to move to Sequim for years are no longer putting their lives on hold while the economy stumbles around.
As in many agricultural rural areas of the country, farms were slowly subdivided and sold to developers and builders who met the demand from California, Arizona, and from retirees all over the country who heard about or read about Sequim WA as one of the 10 best places to retire in America.  Development has slowed as the market has cooled off.  Of course, they don't make water front and mountain view land any more, and government restrictions have increased to make it much harder and much more expensive to develop land.
Sequim WA is a peaceful country setting with an amazingly low crime rate (almost none), with a famous rain shadow or blue hole in the sky (we get 1/3 the rain of Seattle), with more recreation than you can name from mountain hiking to fishing to kayaking to sailing to surfing to bicycle riding (the Discovery Trail runs for many miles) to golfing, and more volunteer clubs and associations than any town I've ever lived in.
Sequim WA is a beautiful and peaceful place to live.
Last Updated on September 4, 2011 by Chuck Marunde