Sequim homes are selling, and here's an example of a beautiful 3 bedroom, 2 bath 2,400 square foot home on 1.5 acres on the west side of Sequim above the John Wayne Marina that just sold.  There's much more to this home than meets the eye here.  The buyers intend to remodel the kitchen to bring it up to date, but the house is built with the best materials and construction design, the floor plan is great and the property and location are incredible.  The selling price was $350,000.
Sequim Homes in Rural Setting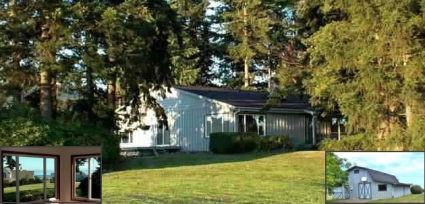 Sequim Homes Like This Not Common

Sequim homes like this are not as common as you might think.  This home is about three miles from Sequim, so it is close to shopping and restaurants.  John Wayne Marina is a short drive down the hill and across the street (West Sequim Bay), and the Discovery Trail is a short walk just to the north of this home.  The Dockside Grill restaurant is close by, and is a very classy restaurant at the Marina.  You can see the dinner menu and make reservations at the Dockside Grill.

Sequim Homes Sold on a Private Contract

Most Sequim homes are sold with bank financing, although many retirees put down 20% or more to get rid of the private mortgage insurance to keep their monthly payment down.  A substantial number of retirees put down 50% or pay all cash.  Once in a great while we have the rare case where a seller owns the property free and clear and decides it makes financial sense to sell it to the buyer on a private contract.  That's how this home was sold by yours truly.  If you'd like to know more about how this works, call me at 360-775-5424. 
Sequim homes are selling well in these busy summer months.
Last Updated on September 16, 2011 by Chuck Marunde