This Sequim water front home is for sale on east Sequim Bay, which is the sunny side of the Bay.  This is a gorgeous location and a medium bluff water front property.  You can spend hours looking for a home like this with this kind of water view, and you won't find one like this.
Sequim Water Front Home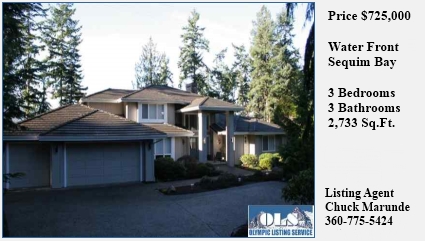 Sequim Water Front Description
This gorgeous custom designed home is right on East Sequim Bay on medium bluff property with a stunning panoramic water view. This is a quiet area and the predominant view is to the west so you can enjoy the long part of the day in sunshine. The home is an architectural masterpiece with the master bedroom and master bath on the main floor. You'll love the hard wood floors, a unique Italian stone countertop in the kitchen, ceramic tile roof, and a large deck overlooking the Bay.
Sequim Water Front
You can see the full Sequim Water Front MLS data sheet on this at Sequim Home for Sale, and you can watch the real video tour (not static photos) at Sequim Water Front Video.
If you would like to view this home, call Chuck Marunde at 360-775-5424.  Sequim water front homes like this are rare.
Last Updated on September 4, 2011 by Chuck Marunde