There  are several Sequim golf courses, but one I think stands out is The Cedars at Dungeness, which is located in sunny Sequim, Washington.  This great course is is a year-round 6,456-yard, par 72, 18-hole Championship course.  Here we are in February, and the Sequim golf courses are busy.
Sequim Golf Courses
The Cedars at Dungeness is playable all year long as are all the Sequim golf courses.  Compare our 13 inches of annual rainfall with Seattle's 38 inches.  No wonder this is a great destination golf course.
Sequim Golf Courses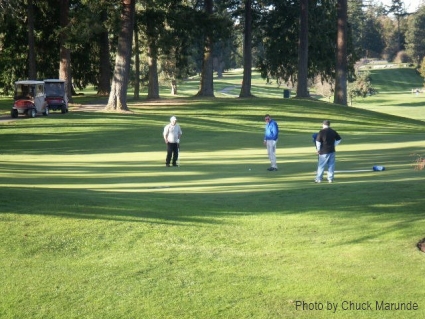 Sequim Golf Courses
From the first hole ("a short dogleg left is a great starting hole") to the 18th hold ("This is one of the best finishing holes in the Northwest. Aim your tee shot at the Totem Pole just left of the clubhouse. This will give you the best angle to the green. Hit it right and you'll have no chance to make par. Add at least one club to your selection for your approach to this elevated green. The green slopes back to front.") this is a great way to spend your day.  No doubt.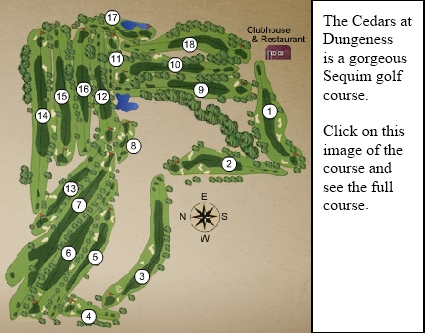 Of all Sequim golf courses, this is the one you've got to play.  You can jump up on the golf course web site at The Cedars at Dungeness.  Sequim golf courses are some of the best in the state.
Last Updated on September 4, 2011 by Chuck Marunde