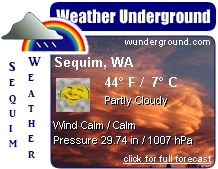 Sequim weather and rain in the same sentence is most often considered an oxymoron, a clear contradiction in terms.  But it is not so.  We are now in the rainy season as we approach Thanksgiving and through November and December and beyond.  Perhaps it is just as well that rain should come with cool weather.
This is also the time of year when we go into the "slow season" for real estate sales.  If spring and summer represent the hot season for home sales, the winter months represent the cold season for sales.  Of course, this seasonal activity in real estate is typical all over the country.  The Sequim and Port Angeles real estate market, however, has been much more stable than most of the country.  And there is another factor that plays out here that helps to stabilize sales over these winter months.
Many retirees are on their own schedule.  When their 25 or 30 year career has matured, their plans to move to Sequim and retire are consummated.  And for many retirees that is now or during these winter months.  For these retirees from California, Arizona, Nevada, Texas, Montana, and even Massachusetts, when the retirement clock has struck the top of the hour (even if it is in November, December, or January), moving to Sequim and buying a home in the winter months creates a rare opportunity.
The opportunity is to be a strong buyer when there are few buyers and many homes for sale.  It is an opportunity that has been amplified by the extraordinary buyer's market we are in, a real estate market that favors buyers more than any market in the past 30 years since I first became a Realtor.  My recommendation for you, if you are retiring to Sequim, is to take advantage of these slow winter months and negotiate the best possible price you will ever negotiate.  The opportunities will not be the same next spring.
Last Updated on July 27, 2012 by Chuck Marunde