Today I showed Sequim homes for sale to a California client.  We had a great day, enjoyed some excellent conversation, and we were enlightened by a variety of architectural and odd Sequim homes for sale.  That's the polite way to say that we viewed some beautiful and ugly homes.  Actually, some Sequim homes for sale have been built with some very unique floor plans that only the owners who built the home could ever have imagined.  This is one of my pet peeves.  Building a home ought to include a dose of common sense that includes this rhetorical question, "Will this home sell to the majority of retirees who move to Sequim?"
Sequim Homes for Sale Are Beautiful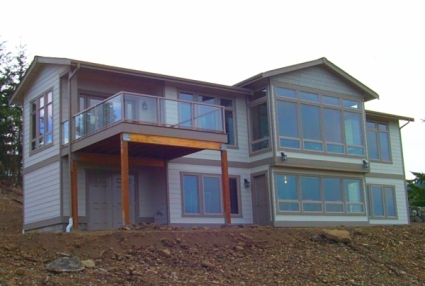 Sequim Homes for Sale Are Often Odd
One of the homes we looked at today was built in 1962 and was original in every way.  The walls still had the old dark paneling.  The kitchen had all the original appliances and countertops from 1962.  The carpet was very old, if not the original.  The fixtures were all original, and the bathroom still had the original pink sinks and cheap countertop and cabinets of the '60's.  The living room had the original dull colored curtains on the windows.  Fascinating.  The house was really interesting to look at, and it made you feel that you had stepped back in time five decades in the past.  The house is about 1,800 square feet and has a double garage with old wooden doors.  The roof has wooden shakes, and is all original.  In other words, everything needs to be removed and replaced.  What a remodeling job this house would be.  Still, it was fun looking at this home among the many Sequim homes for sale.  The house is vacant and has been on the market for over 1,500 days!  I think they should take it off the market and charge $1.00 to walk through it. (By the way this home is listed at just under $340,000.  It's on a very plain lot without any great views.  In my opinion, by comparison with other Sequim homes for sale, this home is about $140,000 overpriced.  Egad!  No wonder it hasn't sold in over 1,500 days.
My guess is that this is an estate sale, and that the adult children live elsewhere in the country and are not desperate for money.  Of course, they are making a big mistake (in my humble opinion) letting the house sit vacant and deteriorate even further.  It's not going to be worth more in the future, not in this condition.  And no one is going to pay $140,000 more than it's worth.  A home like this should not sell for more than $175,000 to $200,000 in this market.  Of course, I could be wrong, but the DOM (days on market) are a pretty good indication that I'm dead on.
Sequim Homes for Sale Are Priced High or Low?
Another home we looked at sits on a beautiful one acre lot with a view of the Olympic Mountains, and is a custom built home with incredible quality.  This brand new home is built with hardwood floors and gorgeous black Avonite kitchen countertops and custom cabinetry.  It's about 1,800 square feet and priced very reasonably at $395,000.  Realistically, you could not buy the lot, excavate and bring in utilities, and build this home for anything less than $475,000.  What a home!  Of all Sequim homes for sale, this one is really amazing.
Of course, one of the most important elements for any home buyer is the floor plan and the ambiance.  Many of my clients have told me they get a feeling immediately upon walking in a home as to whether it is comfortable and feels good to them, or not.  As one clients said, "This home doesn't speak to me."  When you find the home that does speak to you, you'll know it.  First impressions in this case of looking at Sequim homes for sale is most often the right impression.
Last Updated on September 4, 2011 by Chuck Marunde