I see a lot of strange homes in Sequim.  My clients come from out of state, or at least from outside the Sequim and Port Angeles area, and together we look at a lot of homes.  I love looking at homes.  You never know what you're going to see.  Sometimes we see gorgeous homes with incredible views, and other times we see something unusual or even weird.  So I thought you might enjoy a collage of short stories of strange homes in Sequim.
Strange Homes in Sequim – Truth is Stranger Than Fiction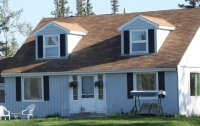 I recently showed a couple a home with an absolutely stunning water view.  Wow, it really was impressive.  Unfortunately, the home has such a strange floor plan that no one wants it.  The master bedroom is on the third split level and is narrow with one small window and a very tiny bathroom.  There are only two bedrooms in this home, and the second bedroom is downstairs with no door.  When you walk down the stairs from the dining room, you are standing in the bedroom.  The laundry room is off that downstairs bedroom.  There is a large master bathroom with a big jetted tub and a beautiful water view, but instead of being off the master bedroom, it is on the opposite end of the house and you walk through the kitchen to get to it.  This ranks high on my list of strange homes in Sequim.  Sure had a beautiful water view though.
I showed another couple a home that had potential, but it turned out the septic drainfield was on the neighbor's property.  I learned that if the system failed, that easement automatically terminated, and a new system would have to be built for tens of thousands of dollars.  My clients said, "Thank you but no thanks."
On another property my clients and I were walking around on the property and up drives a neighbor in a huff.  He immediately told us in no uncertain terms that the driveway of this home we were looking at encroached on his property, and whoever bought it would have to move the boundary line and part of the driveway.  Those clients decided they did not need to step into a dispute with a neighbor before they even made an offer.
Then there is the home with the garage that hangs 15 feet out over a creek that flooded years ago.  The house sits back and is probably safe, but retirees do not seem to get excited about having a garage that hangs out into thin air over a creek.  There are other houses to look at.
Strange Homes in Sequim for Half a Million
And then there is the half million dollar listing that is only framed in and otherwise unfinished.  Nice water view on that one too.  The problem is clients don't want someone else's unfinished floor plan for a half million.
The last one my clients did not buy is a two story 4,000 square foot monstrosity with only two bedrooms.  Both bedrooms had open bathrooms with no walls or doors.  The bathtubs were out in the bedrooms.  The kitchen was pretty neat, but there was a small cooktop stove on the counter with the back burner apparently burning the window sill on occasion.  For almost $700,000, this one had was also one of the strange homes in Sequim.
Last Updated on September 4, 2011 by Chuck Marunde